New update! version 11.0 - Windows 10 20H2 (Version 2009), October 2020 update support
Blocks 121 Microsoft servers engaged in user activity tracking
Blocks recent spying Windows Updates KB971033 and KB976932
Being a great overall system, Windows 11 and 10 includes a host of highly controversial features collecting information about the users and their activities on a Windows 11 PC and transmitting the data back to Microsoft. With no adequate warning, no concise privacy policy and, most importantly, no official way to disable the logging completely, the new Windows 11 spying features raise alarm with privacy advocates around the world.
Rolling your Windows 11 upgrade back to Windows 7, 8 or 8.1 does not solve the problem, as Microsoft is actively pushing the same tracking features to these systems via Windows Update. If you have rightful concerns about your privacy in Windows 11, you absolutely must take the matter into your own hands.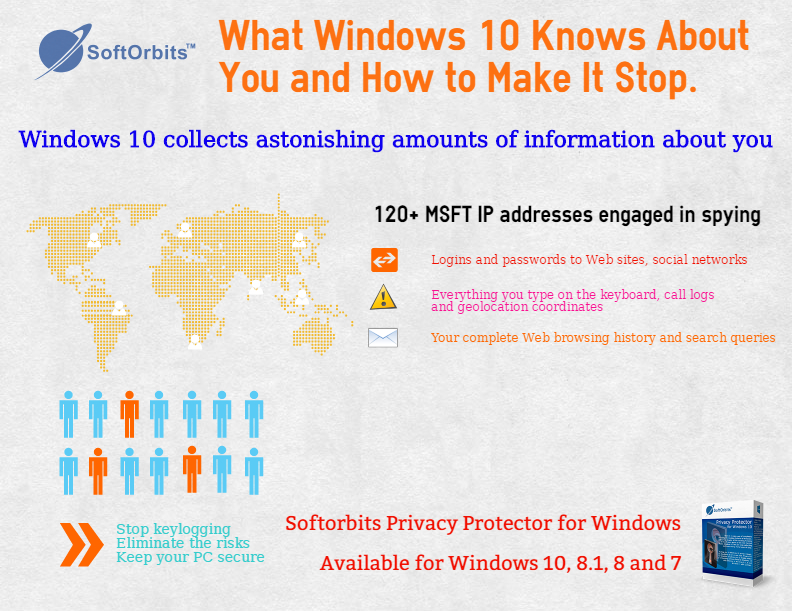 What Windows 11 Knows About You and How Windows 11 Privacy Tool Can Help
Windows 11 collects astonishing amounts of information about its users, with Windows 7, 8 and 8.1 to follow the trend with newly published Windows Updates. The following information is collected and transmitted to Microsoft:
Everything you type on the keyboard (effectively, Windows 11 comes with a built-in keylogger)
Wiretapping: Windows 11 can listen to your microphone and engage your webcam in background without you even knowing (no, this is not a hoax)
Logins and passwords to Web sites, social networks
Fragments of email messages, chats and text messages (including those you send and receive via crypto-messengers such as Telegram)
Your geolocation coordinates (GPS, AGPS or approximate IP-based coordinates)
Your complete Web browsing history
Your search queries
Wi-Fi access points and their passwords
List of installed applications
Information about your listening preferences including the names of music tracks you're listening
Call logs
Your calendar entries, events and meetings
Your address book
BitLocker escrow keys: if you encrypt your hard drive or eMMC memory with BitLocker, recovery keys are automatically uploaded to Microsoft OneDrive; Microsoft Privacy Policy allows the company disclosing those keys to government agencies by request
Future Windows 11 updates are rumoured to disable features if the system discovers what it considers to be 'incompatible' or 'unlicensed' software or hardware components
Windows 11 Privacy Tool
There is no easy way of completely disabling the tracking features of Windows. Even if you disable all the tracking features in the Privacy applet of the new Control Panel, Windows 11 will still keep collecting and transmitting many types of data.
To help you fix Windows 11 privacy issues, we developed an all-in-one Windows 11 Privacy Tool. Windows 11 Privacy Fix Tool allows you to disable select or all tracking services found in Windows 11 and delivered to Windows 8.1, 8 and Windows 7 with updates. Privacy Protector for Windows 11 does the following things to stop Windows 11 tracking: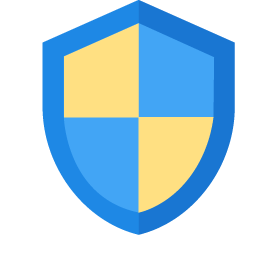 Deletes or disables Telemetry
Clears and disables DiagTrack Log
Stops, blocks or removes over 37 tracking services, including tracking activities discovered in the following Windows services:

Cortana background tracking services
Media Center
Customer Experience Improvement Program
Power Efficiency Diagnostics
Family Safety Monitor
Office ClickToRun Service Monitor
Application Experience
Office Telemetry
Disk Diagnostic
Media Center
Windows Search

Disables Keylogger, preventing Microsoft from collecting information you type on your keyboard
Disables Windows Defender.
Disables Cortana to prevent background collection and transmission of data recorded with your microphone and webcam
Disables Windows Update, allowing you blocking unwanted updates
Selectively rolls back certain Windows Updates enabling tracking features (for Windows 11, 8.1, 8, and Windows 7)
Disables certain Telemetry and tracking modules in Microsoft Office 2016
Optionally blocks Microsoft Office updates
Enables users to uninstall OneDrive
Windows 11 Privacy Tool Enables disabling Bing Search
Enables uninstalling built-in and non-removable Metro and Universal applications, releasing RAM and effectively stopping additional tracking performed by these applications
Enables the ability to remove all Metro and Universal applications, effectively bringing your Windows 11 installation as close to Windows 7 as at all possible (you'll have to download the old Calculator app though)
Allows reinstalling Windows 7-8 Picture Viewer
Blocks more than 60 Microsoft IP addresses engaged in user activity tracking on host level (by modifying the hosts file)
Blocks IP addresses from the tracking network by creating Windows Firewall rules
Automatically creates a Restore Point before making changes to the system
Most Privacy Fixes can be reverted if required
Some Privacy Fixes cannot be reversed even via System Recovery
Privacy Protector for Windows 11 11.0