There are many photo sketching software available for downloading today. The ease of this method of acquiring software is giving more editing power to individuals, enabling anyone to modify his or her pictures to their personal preferences and desires. Downloadable software also brings out the best in a person's creativity and resourcefulness, giving him or her the ability to explore just what they are capable of doing with a simple digital photo.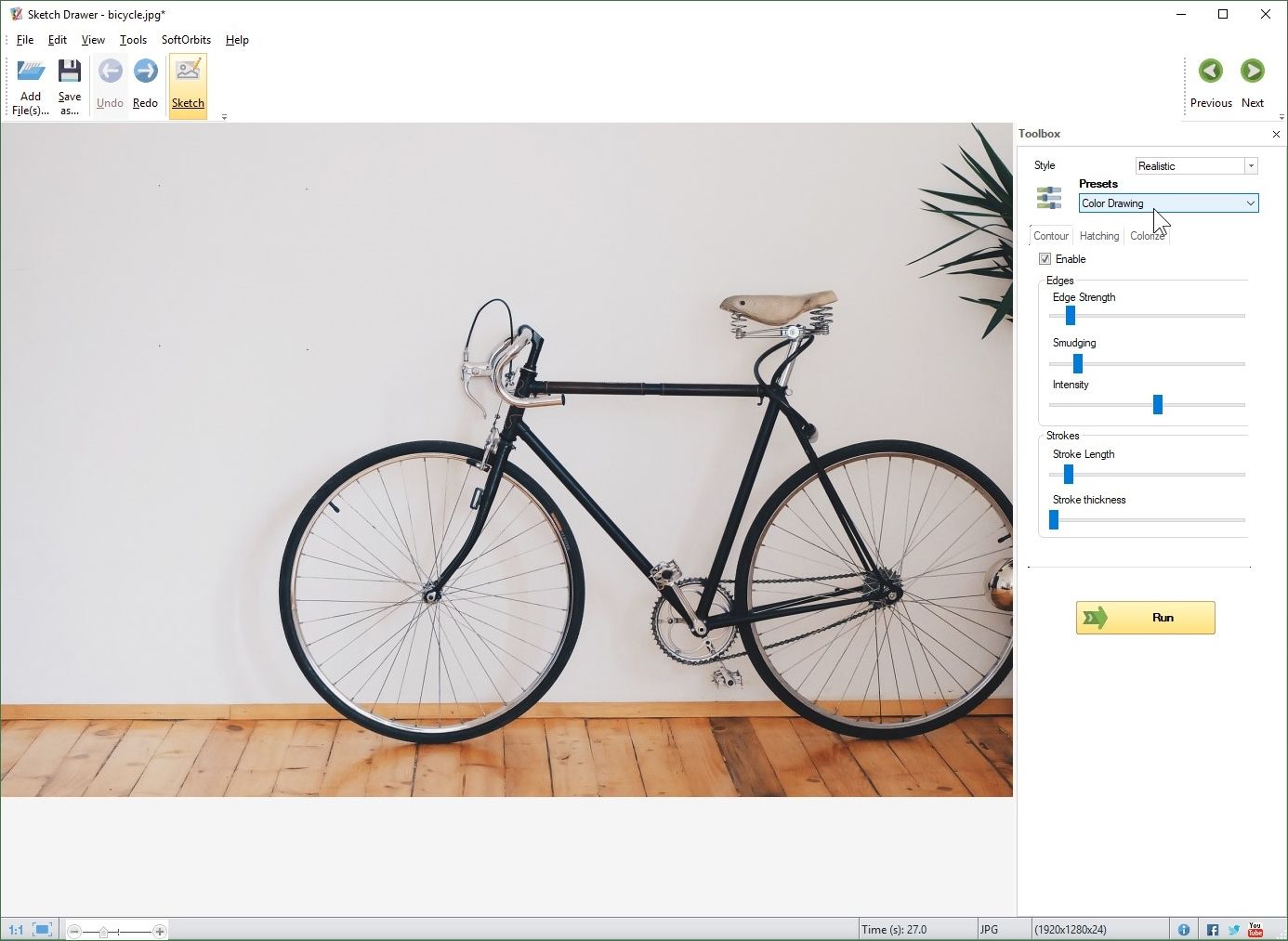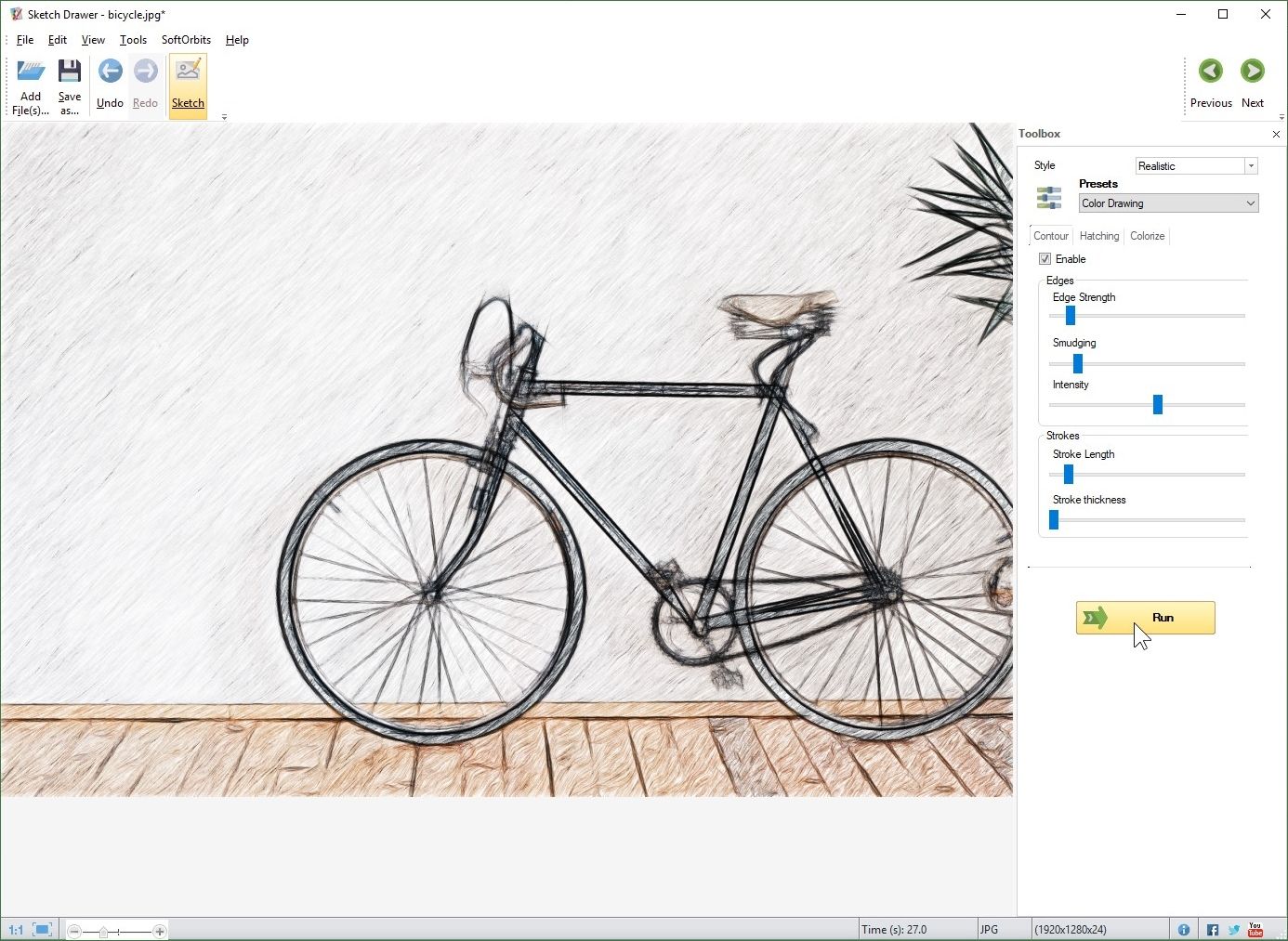 But the pervasiveness and popularity of this form of content sharing has also allowed the spread of downloadable software that are just below the quality that people are looking for. Software that do not quite meet the expectations of the buyer are not only dangerous because they can devalue the buyer's hard-earned money. Software that are truly deserving of recognition also become dubious in the eyes of other users. This delivers a great consequence on both parties: buyers end up buying complicated and more expensive software, eventually making them give up their dreams of owning user-friendly tool and creating their own art works.

Introduction
Photographs enable us to preserve moments or memories forever. They can also vividly communicate emotion to the viewer. With the assistance of special software known as SoftOrbits photo sketch software for PC, we can now turn photos into sketches. It can help you to transform digital photos into beautiful works of pencil art. Here is more on this image sketch software and what you can do with it!

How to Use Photo to Pencil Sketch Software?
Add the pictures you want to convert to sketches using the Add photos button.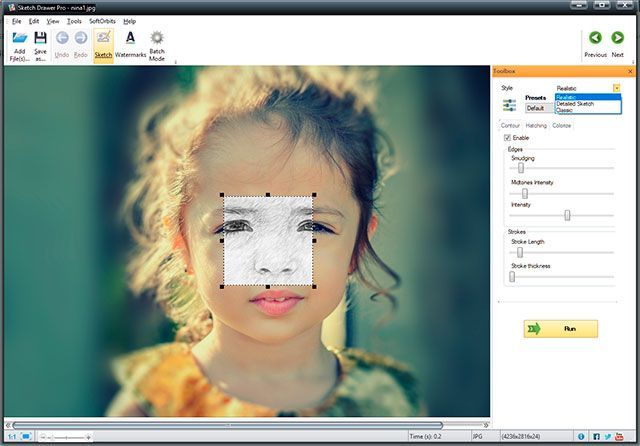 Then choose the settings you like in a few slider tweaks.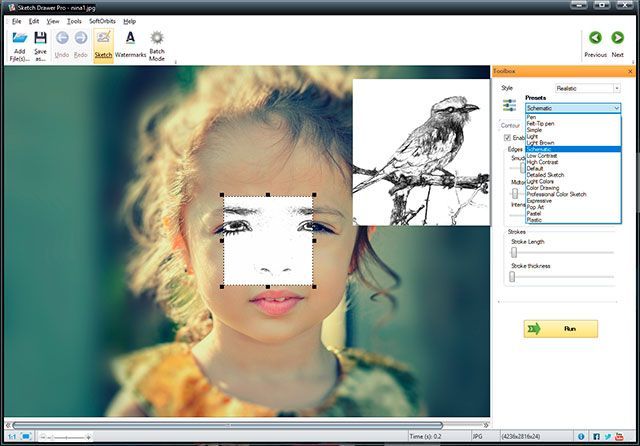 Click Run to begin the conversion process.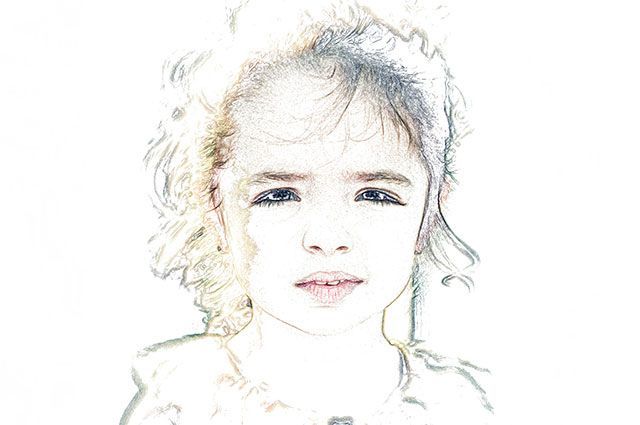 Click the Save button to save the beautiful sketch on your computer.
Characteristics of SoftOrbits Photo to Sketch Software
This software is compatible with various formats of digital photos. By using SoftOrbits Sketch Drawer, you can transform your photos into works of art. The software provides you with an interface where you can load a digital photo of your choice. A tray of buttons and sliders is also provided there for photo sketching. By using these facilities, you can adjust the photo's appearance and make it a pencil sketch!
This photo sketch software for PC allows you to apply and lay pencil strokes upon the digital photo. You can determine the thickness of the pencil lines. You can even determine the color of these strokes. In this way, SoftOrbits instant photo sketch pro provides you with ultimate dynamism.

A digital playground for you
Convert photo to line drawing app provides a digital platform where you can adjust the appearance of your digital photos in any way that you choose. The software comes with a collection of interactive presets. You can use them to create pencil drawings, watercolours or even silhouettes. As such, it enables you to express your creativity as well as you can.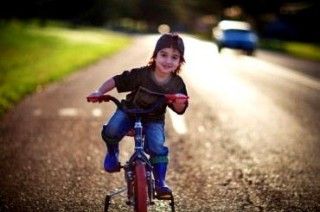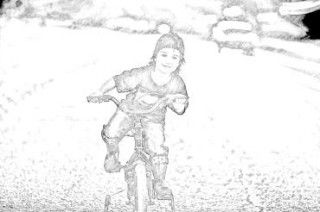 Batch photo to sketch conversions
Do you want to turn many digital photos to sketches at the same time? This is easily done with the SoftOrbits image Sketch Drawer. You can load them into this digital tool using a batch mode feature. After making the necessary settings, you can convert all the photos into sketches together!
Here are some of the advantages of Sketch Drawer:
It has intuitive interface.

The sketch converter can be used by beginning users who have no technical knowledge as well as by professionals who are interested in extended functionality.

It has extended functionality.

The program has many presets that allow you to create black and white sketches, colorful sketches, pen sketches, pencil sketches. The options are unlimited!

It is reasonably priced.

You do not have to spend hundreds of dollars on professional software like Photoshop or hand-drawn portraits.


Free to try

. Get this sketch app for free, download its trial version! Check it out first to see whether it is exactly what you are looking for.
Premium quality sketching software
SoftOrbits Photo to sketch software changes the whole plane for buyers and industry standards. This software for sketching pictures not only provides the best and most affordable solution to photo conversion nowadays.
Sketch Drawer is also a very simple software that anyone can download and run as soon as possible. Getting familiar with Sketch Drawer's dashboard will only take a few minutes. Pretty soon, users of the pencil sketches app will churn out image after image of pencil sketches using their original digital files. The ease of use, affordability, and streamlining capability of the Sketch Drawer makes it the ultimate choice for photo sketching software for Windows. With it, no longer will users have to regret their online purchase, and they can immediately start converting their images to great quality works of art.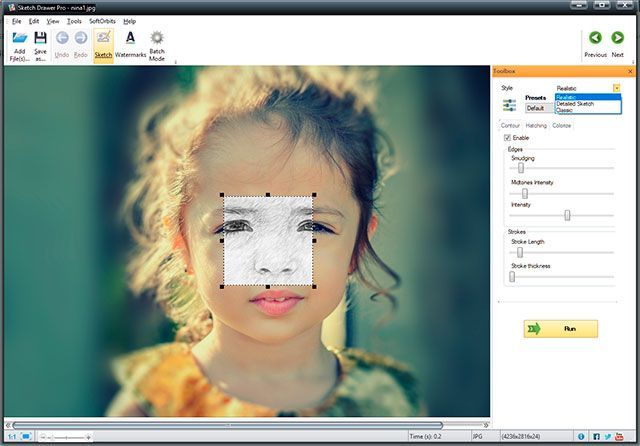 Converting a photo to a pencil sketch is easy with the software: all you need to do is to specify your preferred filters and effects. The result is a stunning and realistic pencil sketch rendition of any picture, worthy of adorning the walls of your home and rooms.

Conclusion
You can now turn any digital photo into a work of art in the comfort of your home using SoftOrbits Sketch Drawer! This is handy software which helps you to create pencil sketches. Simply visit their website and download this photo sketch app for pc to experience photos like never before!

With Sketch Drawer, anyone can convert one or multiple photos to pencil sketch in one go. No other software is as effective and worthy, and your photo editing skills will be boosted with the addition of this one-of-a-kind software.

🙋Frequently Asked Questions
Pencil drawing bears more aesthetic value on it as this kind of illustration has been famous since the ancient period. However, not everyone can handle a pencil and make a perfect stroke on the sketch pad. Sketching requires a gift of skill and lots of practice time for mastery. Many are frustrated in doing their own sketched portrait – the other option is to hire an artist to do it for them but that will cost them an amount.
With Sketcher Drawer software to turn photo into sketch, you will find no hassle at all in creating your own line drawing. Now you can keep away those painting tools and get ready for a fun-filled activity. Start gathering all your digital photos and choose among it your most favorite images.
You can turn your photo in color drawing just by clicking on the "Color Sketch" box or if you prefer the black and white sketches, just clear the box and there you go with your photo in graphite pencil drawing. It's fun and amusing to have your photos converted into something more artistic – with real professional artist look! Have it either in watercolor or pastel painting, the result is always as awesome as you would want it to be.