Converting TIFF to JPG images is all simple and easy as long you have on your computer the appropriate image converter software. SoftOrbits brings you the Batch Picture Resizer that allows you to change your TIFF images into the most common standard JPEG file format. This TIFF to JPG Сonverter program comes with user-friendly interface, featuring editing tools that are all in lossless mode. With SoftOrbits TIFF to JPG Сonverter Software, you can compress images into smaller resolution size without sacrificing the excellent quality of the images. All you just have to do is to download and install it on your computer. Batch Picture Resizer can batch convert TIFF to JPG, meaning you can operate on multiple images all at the same time.

A Brief History of TIFF Format
TIFF, or tagged image file format, was created by the company Aldus in 1986. Scanner manufacturers came together to create an industry standard instead of each company coming up with its own proprietary file format. TIFF files are considered to be a lossless compression, meaning that all of the image information is retained within the file.
JPEG, or joint photographic expert group, is the most commonly used file format in the world. The format was developed for digital photographers in 1992 by multiple companies including Mitsubishi, IBM, Canon, and AT&T. JPEG is considered to be a type of lossy compression that means you will lose some image quality during compression.

How To Convert TIFF to JPEG
There are many different ways to convert your high-quality TIFF images into smaller files by converting them into JPEG images. You can use a variety of computer programs to accomplish this task. There are even some apps and websites online that will convert images for you as well.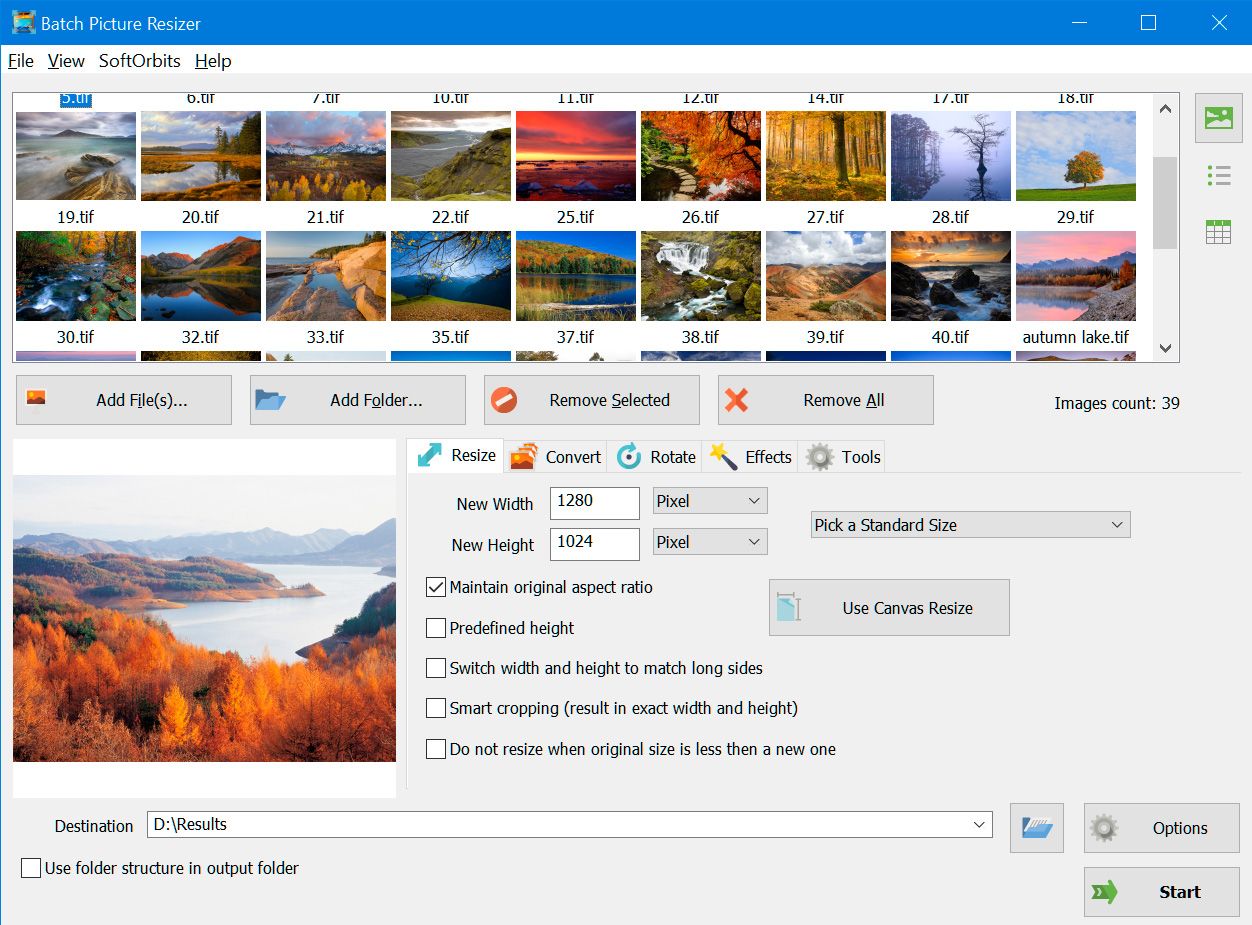 Using A TIFF to JPG Сonverter Software
The Windows come with basic image editing programs that allow you to convert images to different file formats. In Windows, you can use the program, Paint, to open a picture file convert it to another file format.
Using Paint to convert your files to JPEG's is a very straightforward process. Open the image you want to convert and then go to File -> Save As.
Choose your location along with the JPEG format option and you are good to go.
Programs like Photoshop and GIMP allow you to easily convert your images into different file formats as well. All you need to do is open the TIFF image you want to convert. Once you open the image go to File -> Save As. Once you select the location where you want to save your image, go to the drop-down menu and choose JPEG as the file format you are looking for.

Best Online TIFF to JPG Сonverter & Apps
There are many handy apps out there for converting your files between formats. Luckily most of these apps are simple to use and function very similarly. One app is called File Converter By-Online-Convert.com. It is available for iOS. Android, and online.
For iOS and Android, just download the TIFF to JPG Сonverter app from the applicable app store and install it. Then choose the file you want to convert off of your phone or from your online cloud storage. Tap Start Conversion and when the app is finished you can either download the image or share it via email.
If you don't have access to your phone you can still use the app's website. Zamzar.com to upload your image and convert it through the website. Once you get to the homepage just go to the image section and pick the format that you want to convert TIFF to JPG. Upload your image and click on start. Once your file is converted you can download it or share it as needed.
TIFF to JPG Сonverter Software Features
TIFF to JPG Сonverter Software is easy and user-friendly tool helps you to resize or convert large groups of photos, flip, mirror or rotate them.
The operations are all simple and easy to learn. Once all the images are opened, click on the output format option and choose JPEG for your choice of output file format. Hit the Start button to run the conversion process.
Aside from converting of TIFF images into JPEG, Batch Picture Resizer features other batch job operations of resizing the pictures to much preferred dimensions, setting the photos into grayscale, applying watermarks and logos for copyright protection, flipping, rotating, and mirroring with still the excellent quality of the pictures possible.

Change Canvas Size of TIFF file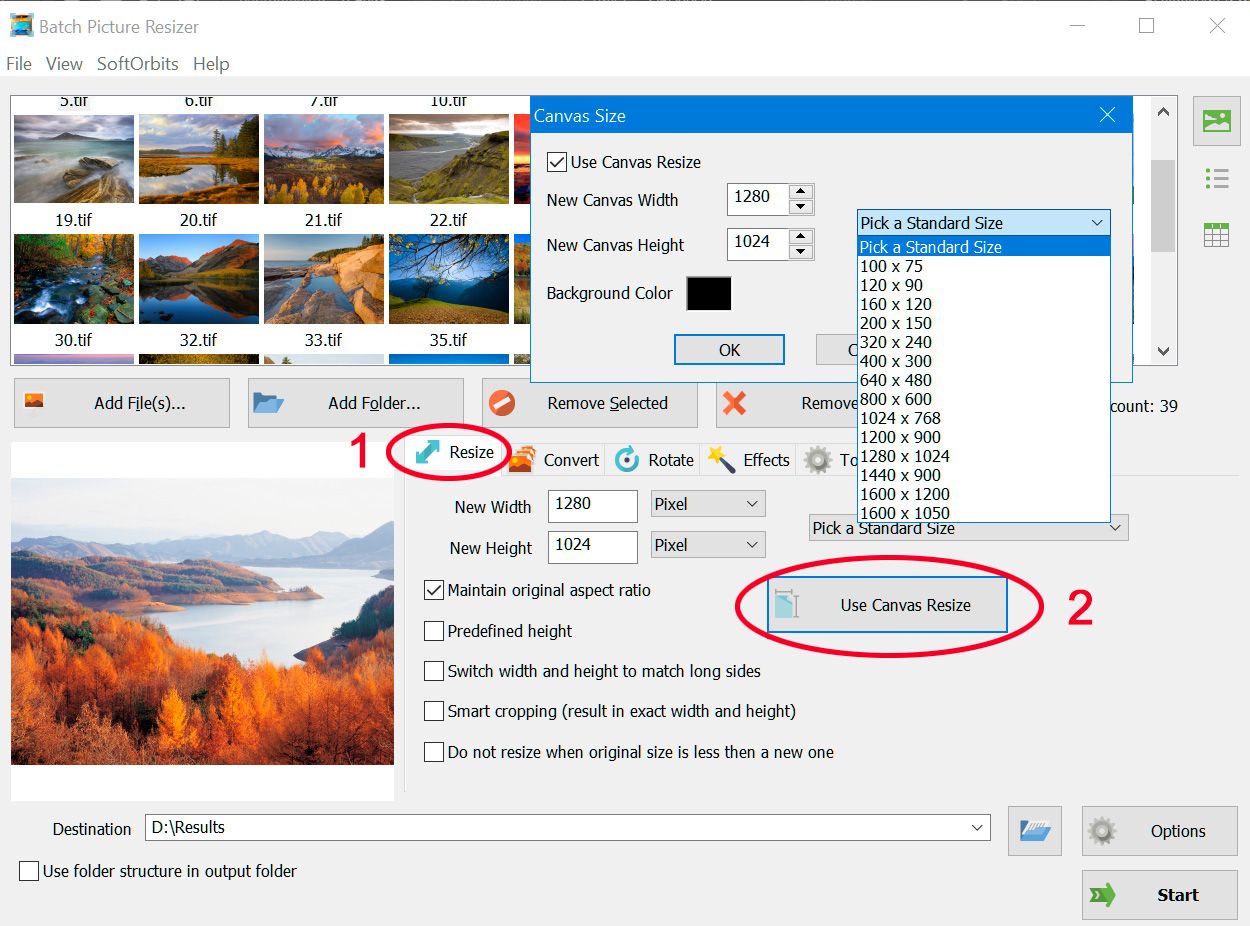 Convert Tiff to Black and White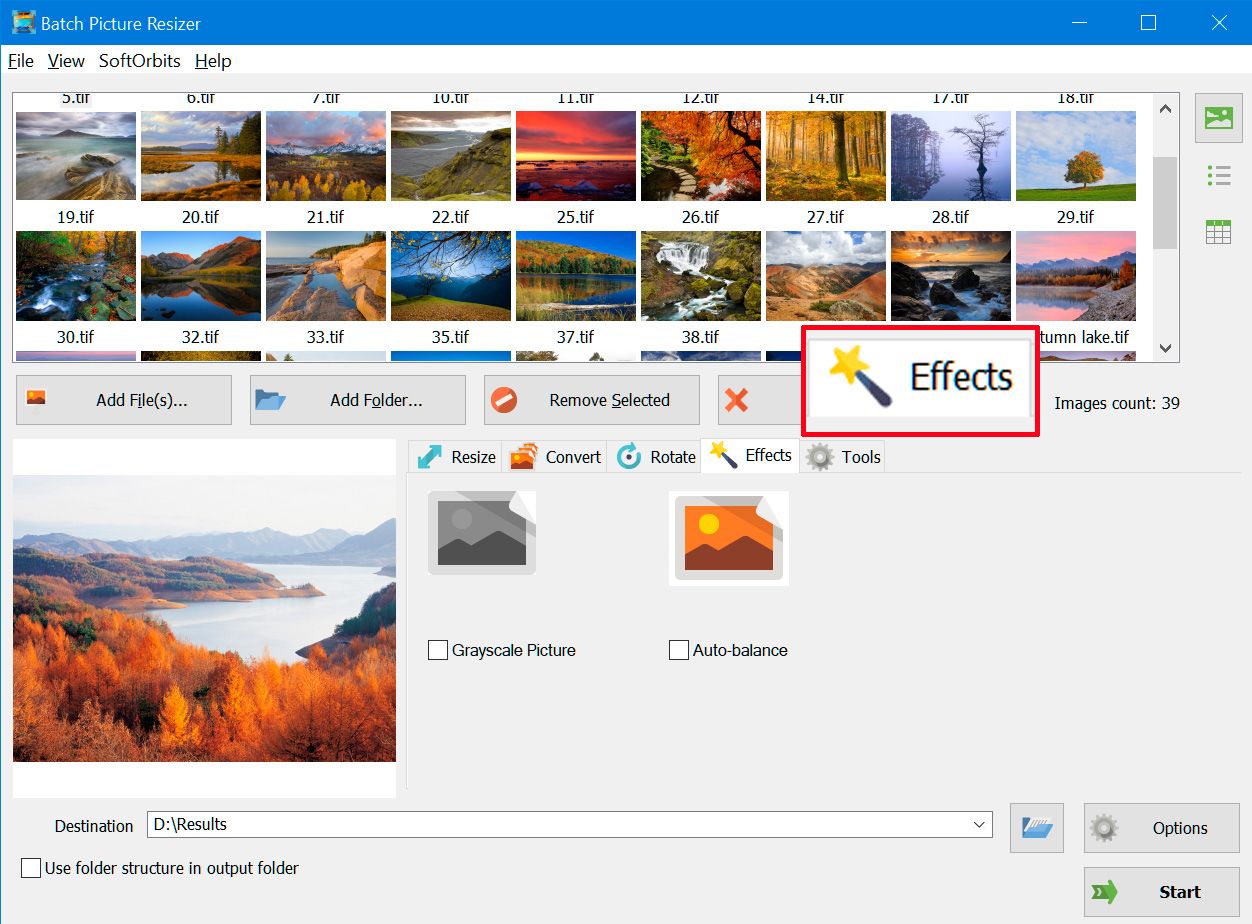 Convert Tiff to JPEG / Gif / BMP / PNG / PCX / TGA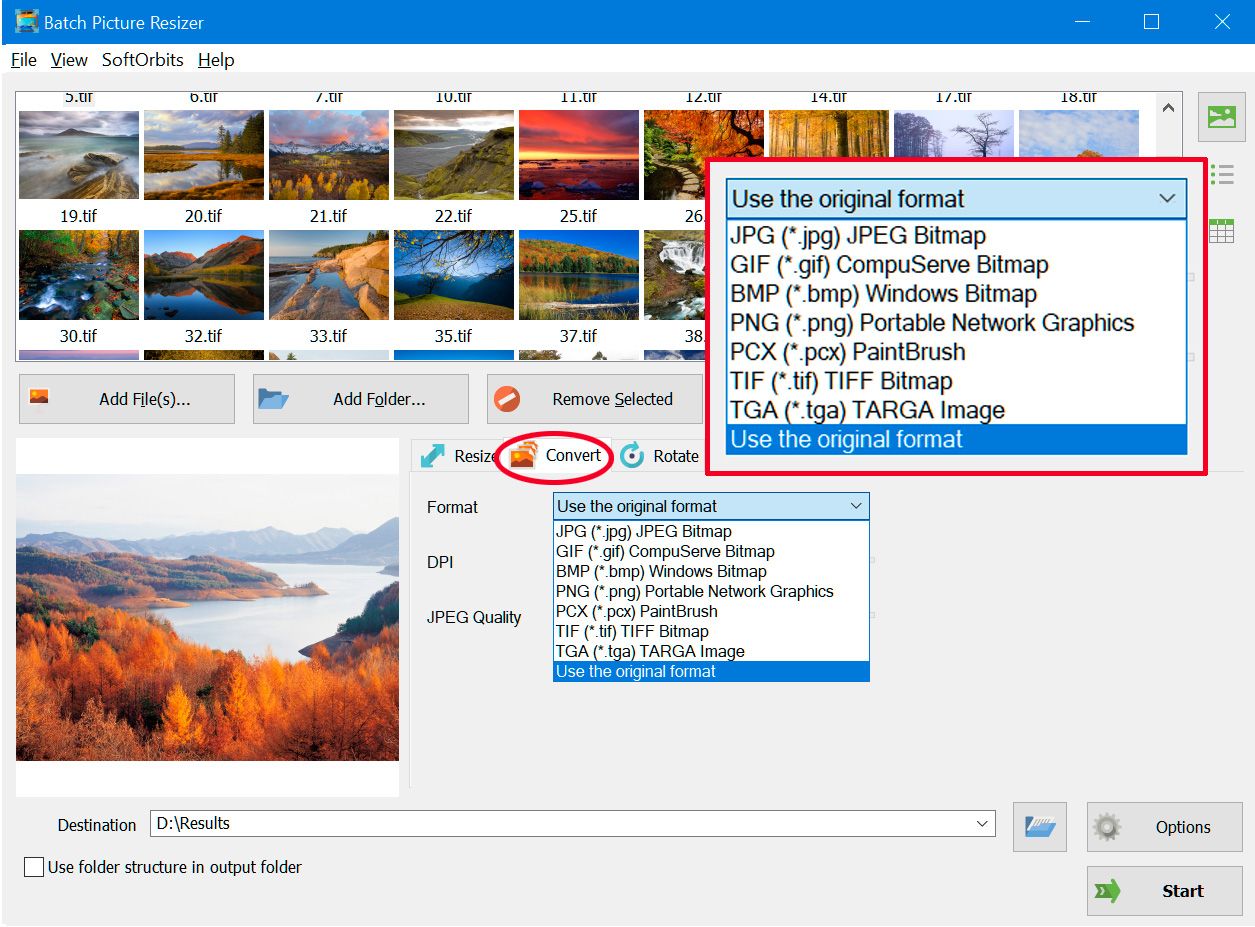 Rename or Watermark TIFF file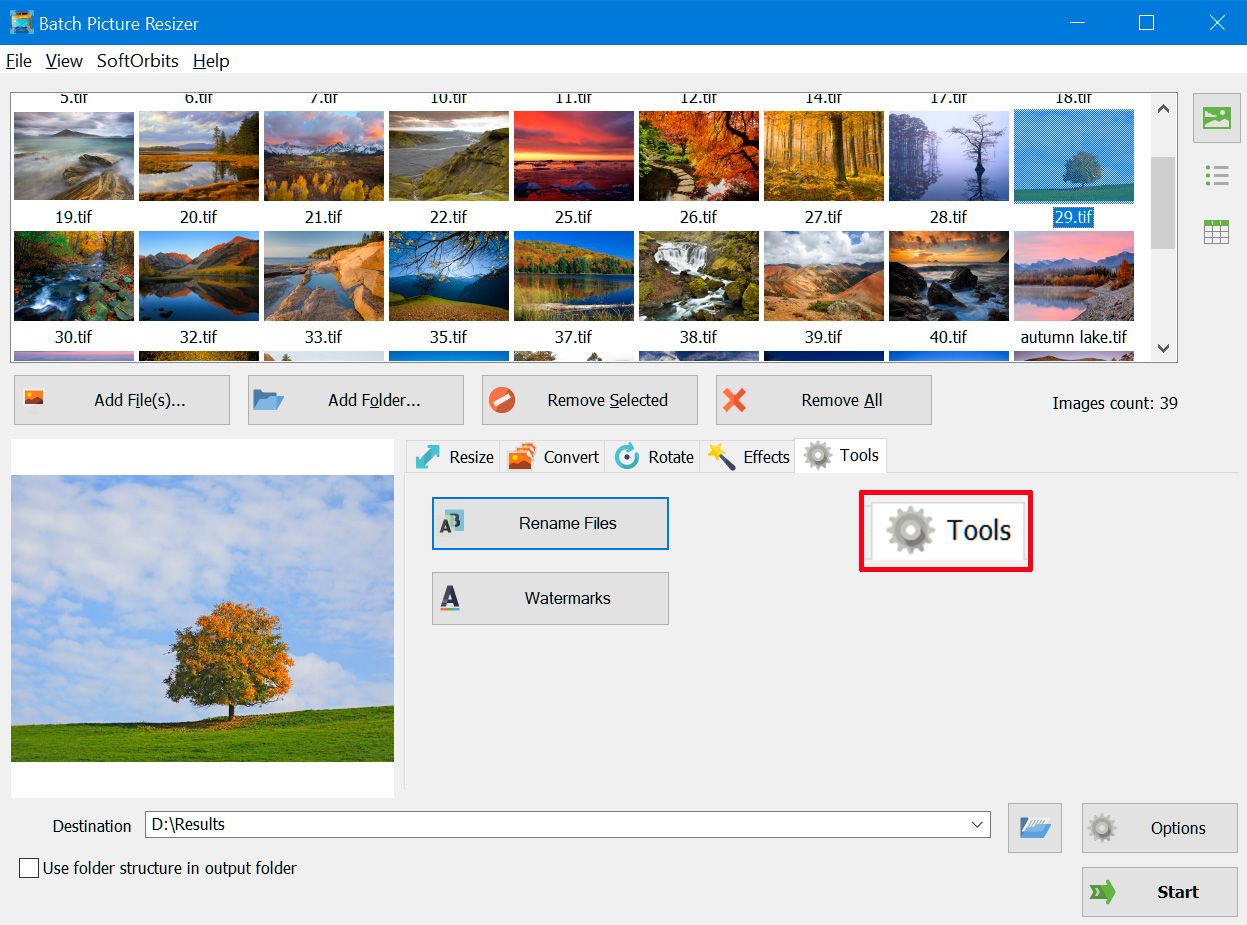 This easy and user-friendly tool helps you to resize or convert large groups of photos, flip, mirror or rotate them.

🙋Frequently Asked Questions