HEIC Format is the extension used by the new iPhones and iPads when they save pictures taken in the new HEIF (High Efficiency Image Format). This new format uses significantly less space. However, you may need to convert these photos to the JPG or PNG format so that other applications will support the file.
HEIC to JPG Converter by SoftOrbits is a simple program that is easy to use, and it allows you to convert your photo files so that you can use any format you need to share, upload, or publish your photos.

How to Use the HEIC to PNG Converter Software
Add HEIC files into the program
This program is user-friendly. When you open it, your pictures will appear across the top. If one isn't there, you can add it by clicking on Add Files. You can also add an entire folder. You can remove those pictures that you do not want to edit.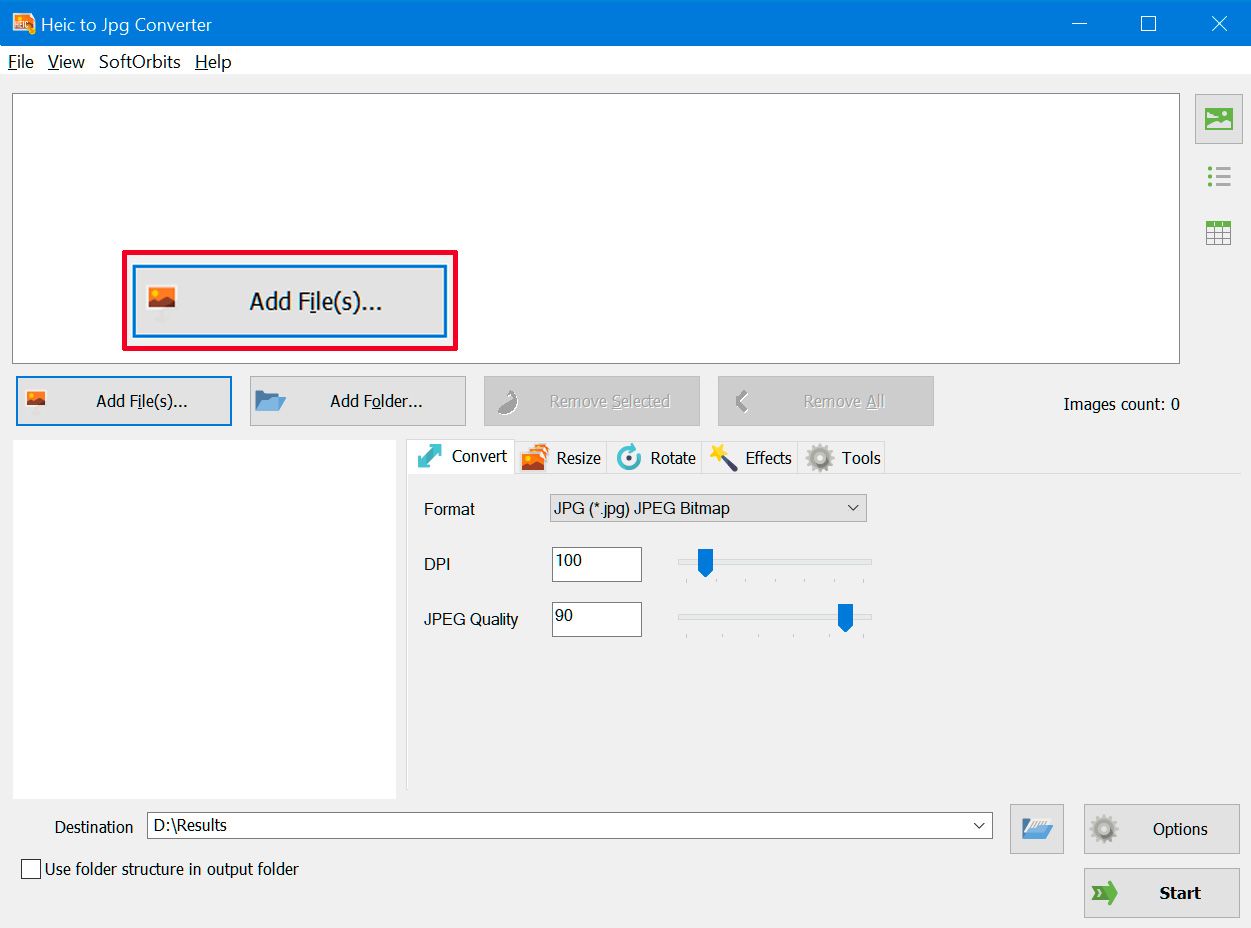 Chose resizing and conversion options
When you select a photo, you can resize it and use tools and effects for editing. Once you are finished, you can choose a destination and then click on Start.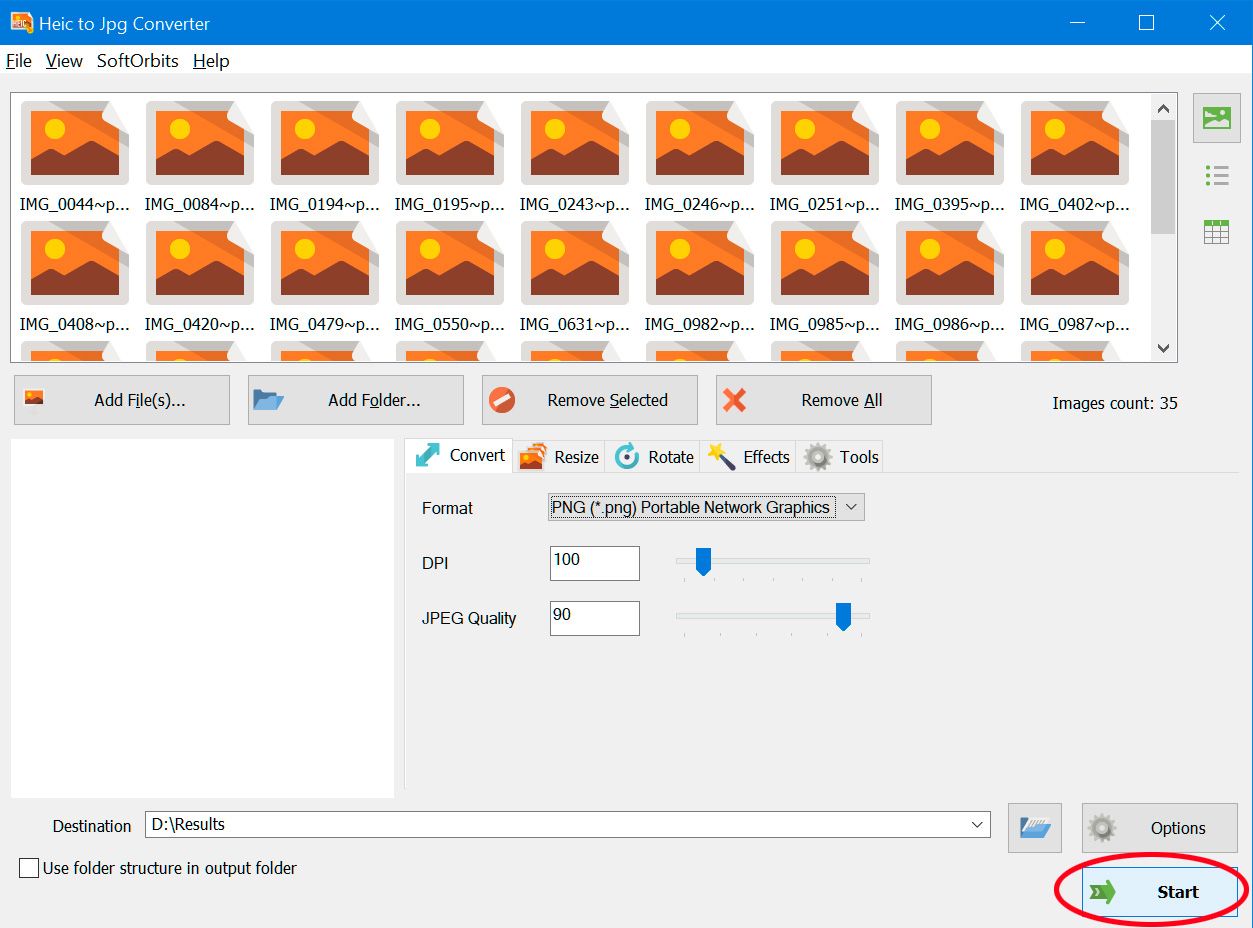 The program will then very quickly convert your photo to the new format. It will be ready to upload to any social media site or send in an email.
You can save the new photo, but it is recommended to save files on your computer in the HEIC format as it uses less disk space.
Program Features
This program has a number of great features. Not only can it convert HEIC files to JPG, but it can also convert HEIC to PNG. The program also offers batch mode so that you can convert a number of different images at the same time. You can drag and drop your images and click convert to change the file type. You can also rename a batch of images at the same time.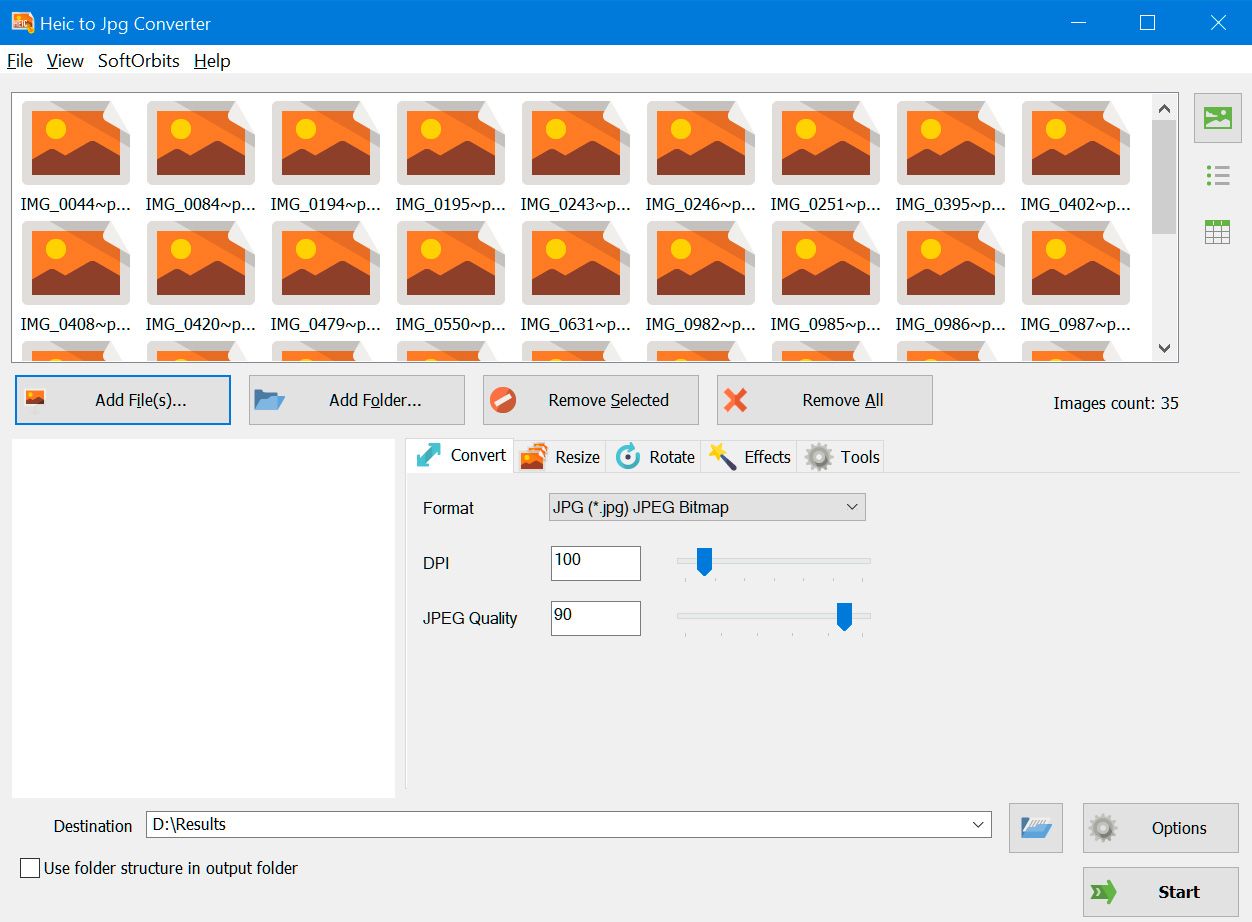 You can convert them between different formats as well.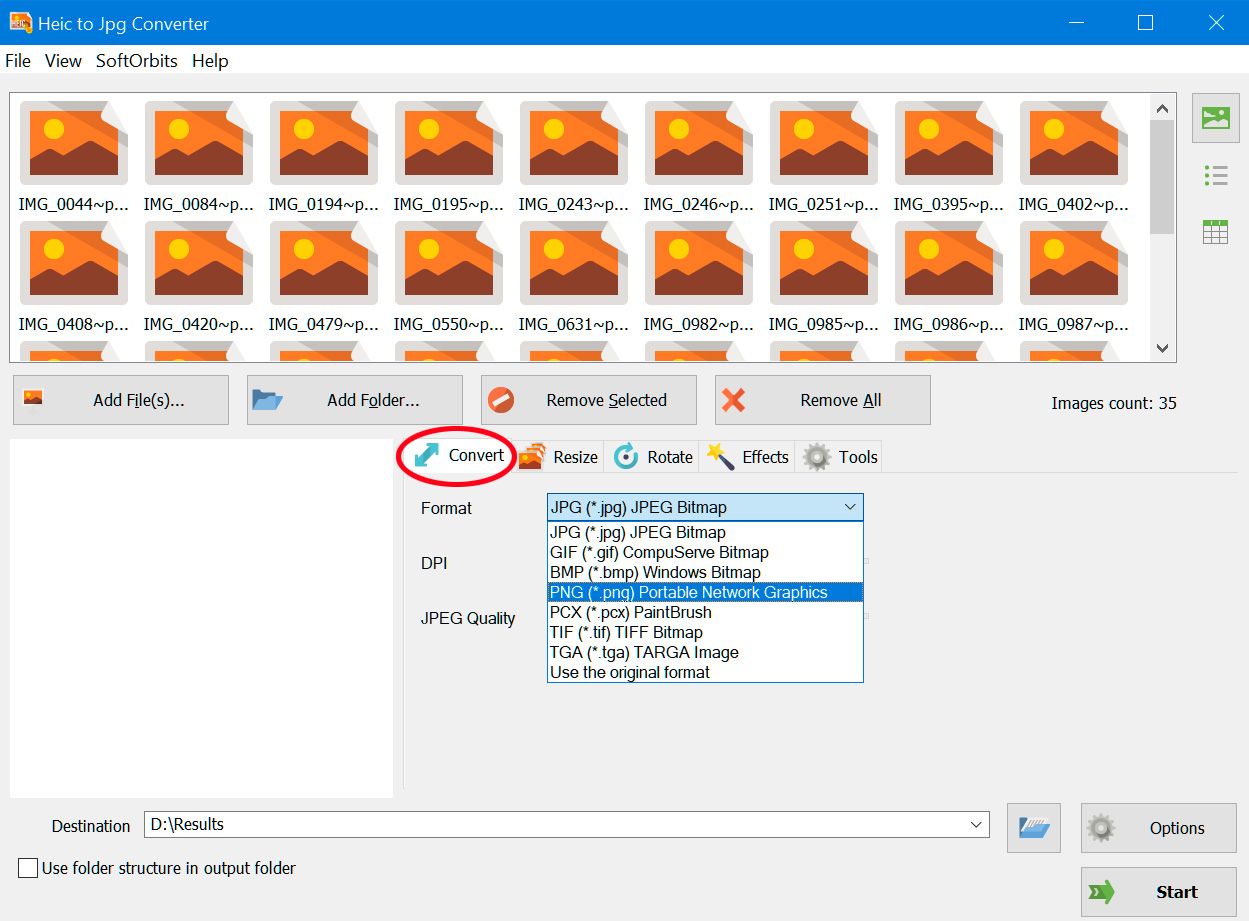 If you need to change the canvas size, that is possible, and the program supports RAW images.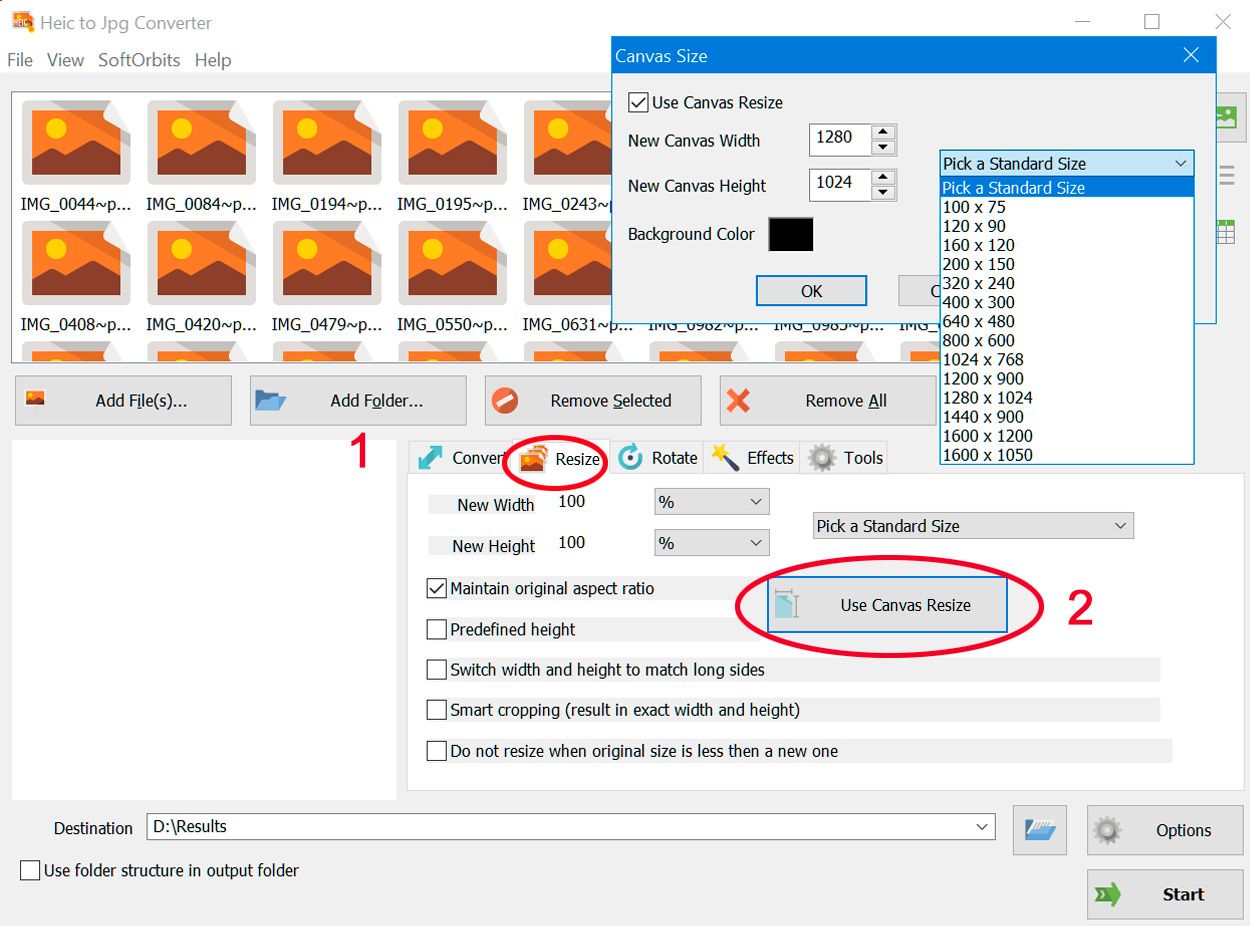 The program also offers automatic level adjustment and color optimization.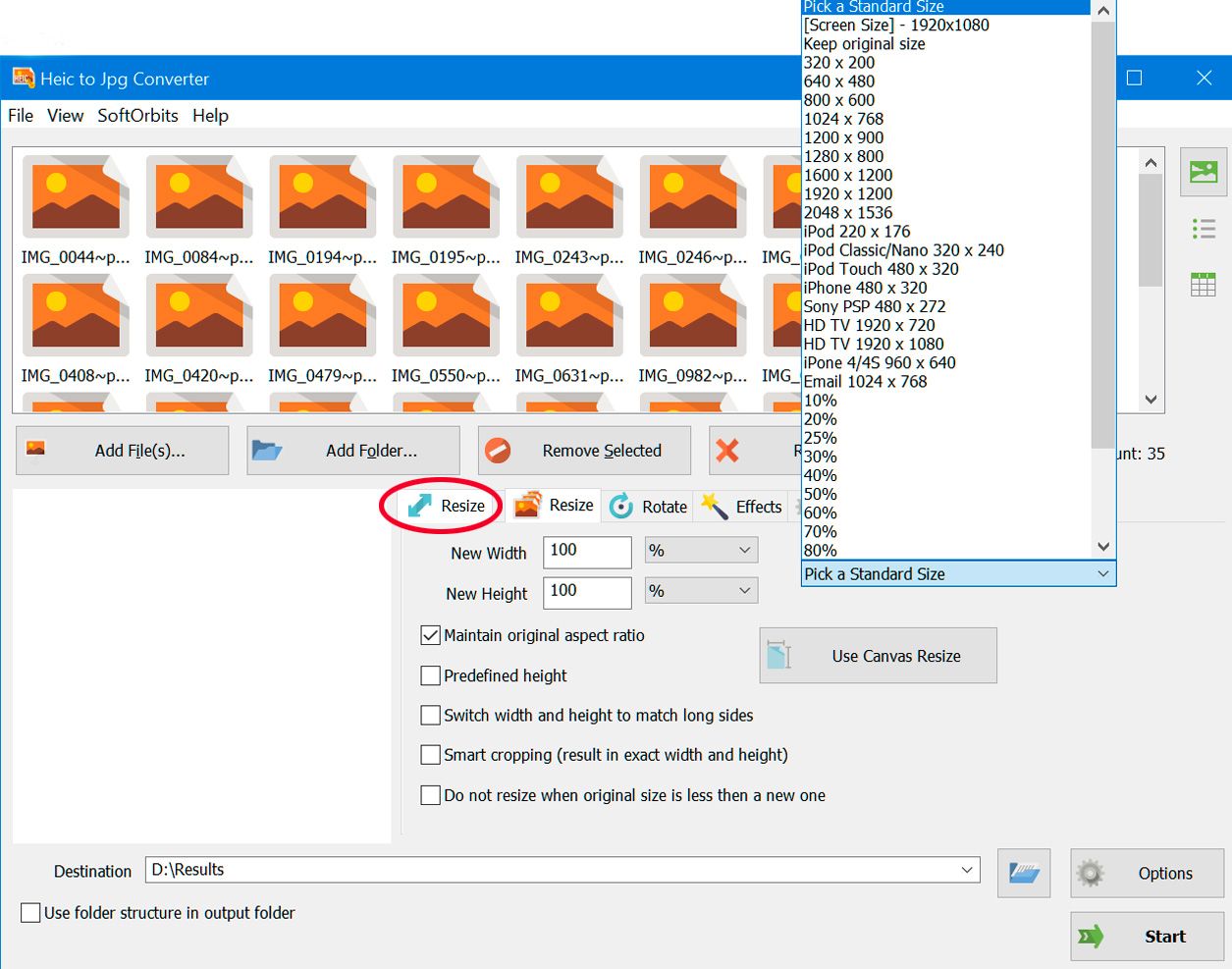 This program works with Windows PCs and laptops. The most important feature is that you can take the original image and convert HEIC to PNG or JPG very easily so that you can upload your photos to social media or publish them. Because HEIC uses so much less disk space, you should consider storing the files in the HEIC format and converting them when you want to share.

Alternative ways to convert HEIC to PNG
There are other software programs that also offer this conversion. Take a look at the following:
This program offers a simple solution for converting your photos from HEIC to JPEG. It does not offer PNG or other formats, but it is simple to use. After you install the program, you can click on Convert to JPEG with CopyTrans, and it will create a new file.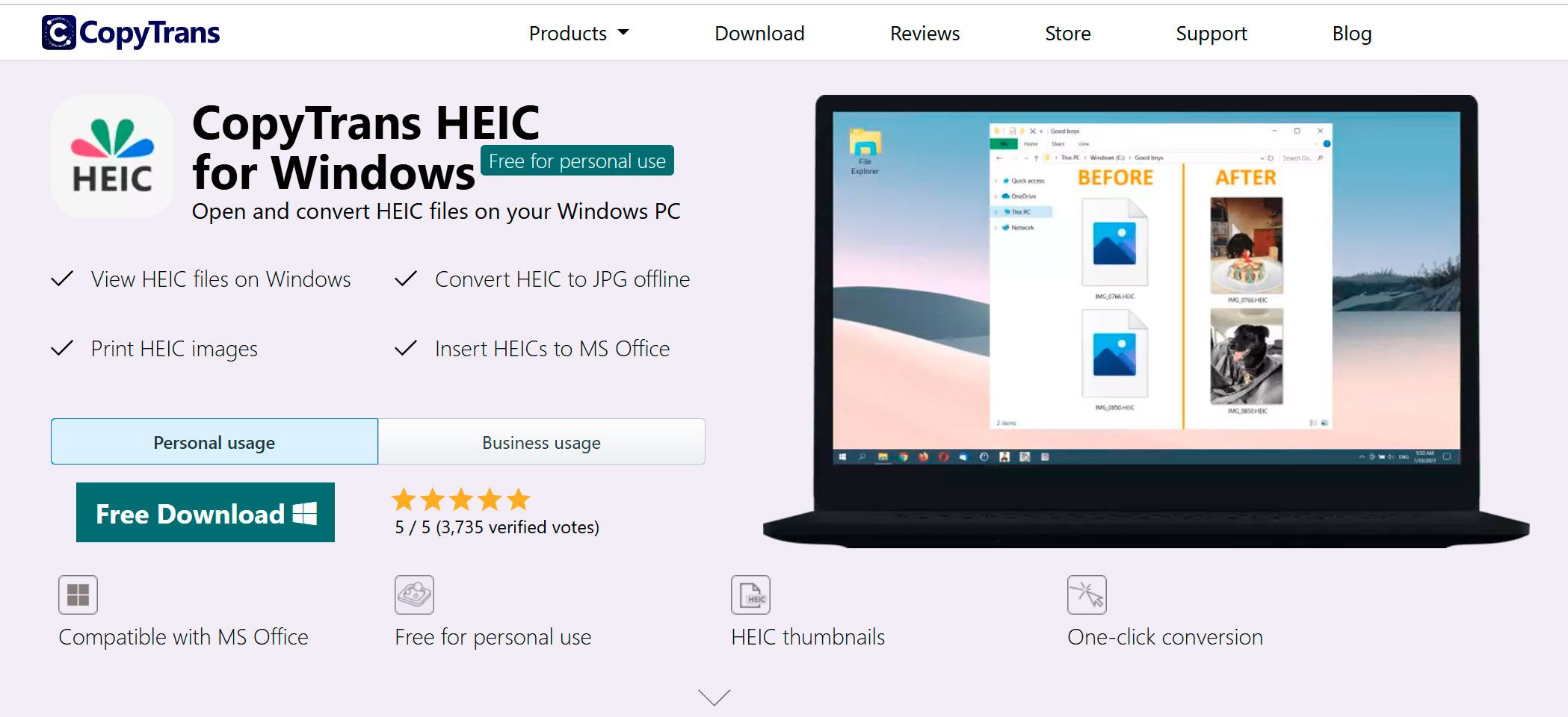 It also allows you to hook your iPhone up to your computer and select those pictures you want to convert and import. You can import them in HEIC, JPEG, or both HEIC and JPEG. While these are nice features, you shouldn't need to have copies of both formats on your computer. SoftOrbits HEIC to JPG Converter allows you to easily change formats when you need to and make more efficient use of your disk space by storing files in the HEIC format.
CloudConvert - Online HEIC to PNG Converter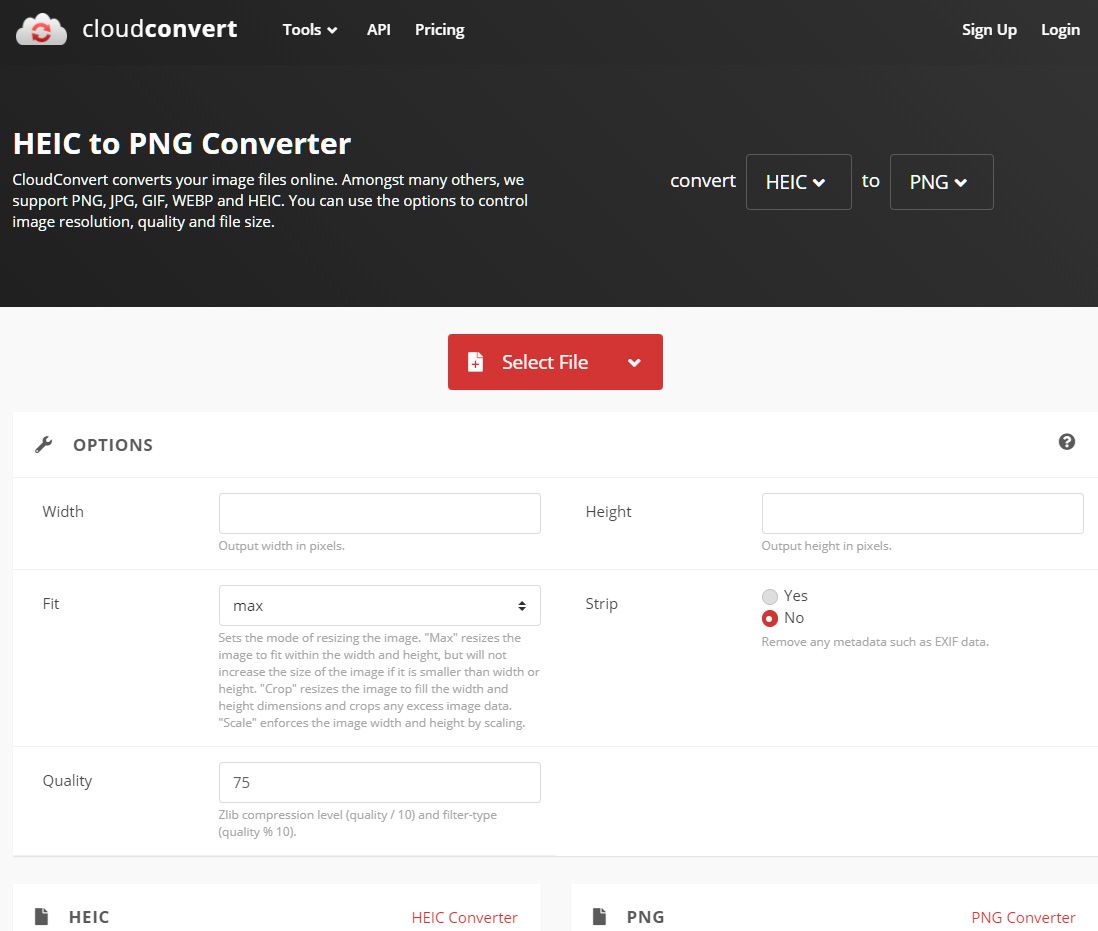 This online HEIC to PNG converter allows you to select the quality of the pictures you are converting. It also allows batch resizing. You simply choose the pictures, choose the quality, and tell it where you want to store the files. Then you click on Convert, and your files will be converted.
HEIC to JPG Converter offers more features, but this program offers a similar conversion.
iMazing HEIC Converter for Mac
If you are Mac user, this is another software to convert HEIC to PNG MAC that allows you to convert images from HEIC to PNG.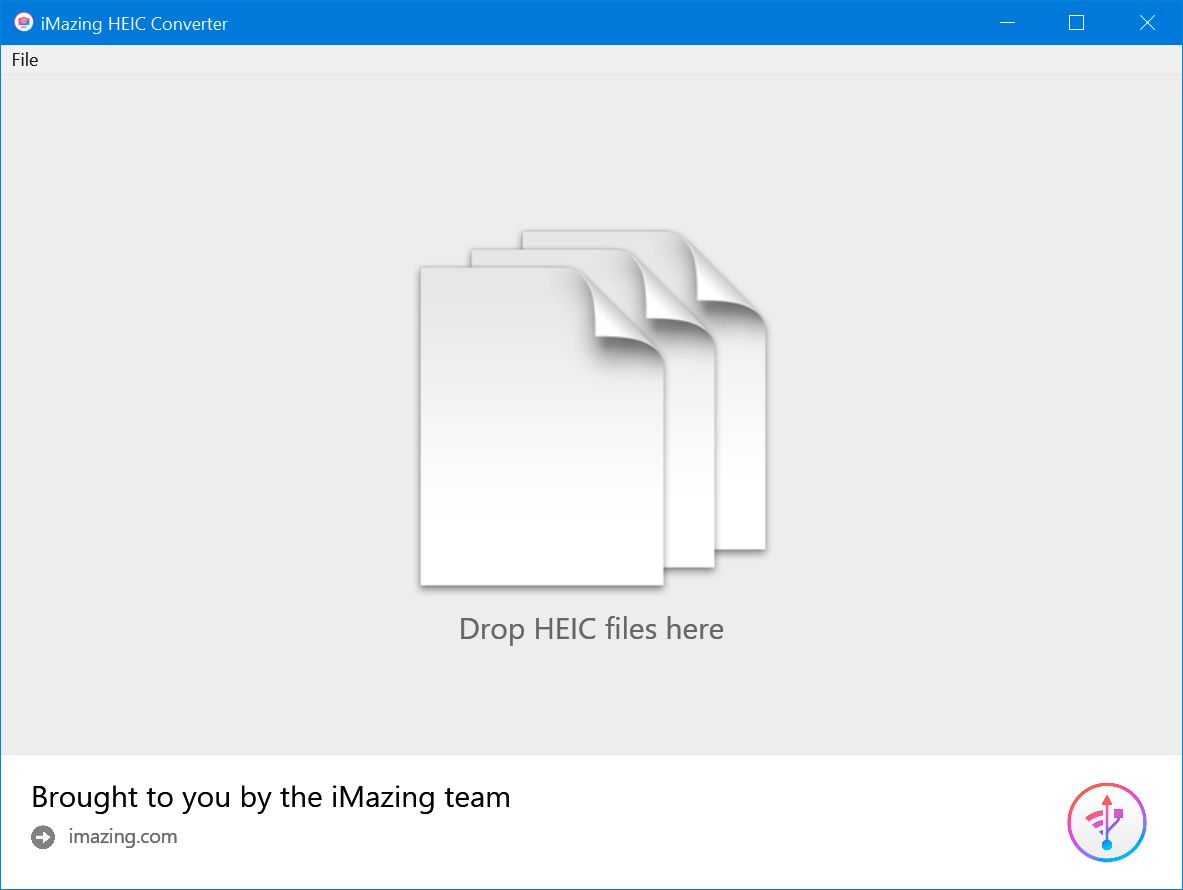 You actually just need to drag and drop the photos onto the converter screen, and it converts them. This program is simple to do, but it doesn't offer a lot of features.

IOS Built-in HEIC Converter
There is actually an option in IOS that allows you to automatically convert your HEIC images to JPG as you transfer them to your PC. You can do the following:
On your iPhone, go to Settings.
Click on Photos.
Select the Formats.
Select the Most Compatible option.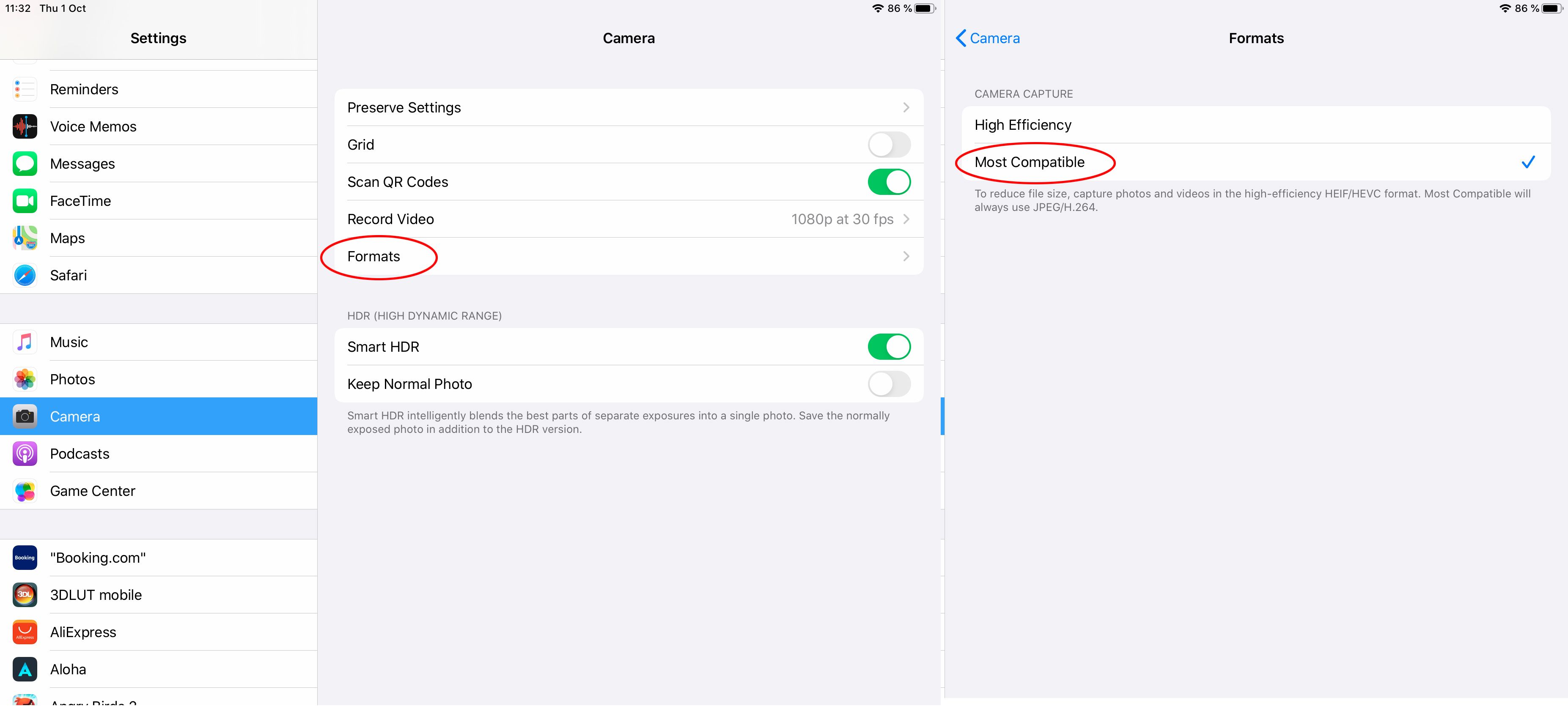 Using this feature will allow you to automatically convert your photos to JPG when you are transferring them to your PC by way of a USB drive.

Transfer HEIC Images by Email
When you transfer your photos by email, they will be automatically converted from HEIC to JPG. This makes it pretty easy to email photos from your iPhone and make them easy for someone else to open. They will already be in the JPG format when they arrive on your computer.

🙋Frequently Asked Questions
The best format to store your photos is HEIC. You will actually use a lot less disk space, and you will be able to convert any picture when you are ready to email it or share it to social media.
You can transfer your photos in several different ways. You can email them or send them to your computer through a USB wire. You can select a batch or send one file at a time. You can also choose an entire folder.
You can add text to your photos. You can also add a logo or an image watermark. Your photos can be safe and customized with this software.
Conclusion
The new HEIC format allows you to take more photos and store them on your phone or your PC. Some applications do not support this format, so you will need to convert HEIC to PNG or JPG to share them or upload them to social media. However, HEIC uses less disk space, so you may want to store photos in this format. HEIC to JPG Converter is a program that is user-friendly and allows you to convert and edit your photos easily.