Resizing many images or getting exact photo size in centimeters or inches should not be a problem or consume a lot of time. When you are working on a project that requires specific photos with specific dimensions, you want to be able to resize, rotate, and manipulate images as required, without losing any quality. SoftOrbits offers a fully automatic image resizer in cm software option to do that job with many extra features.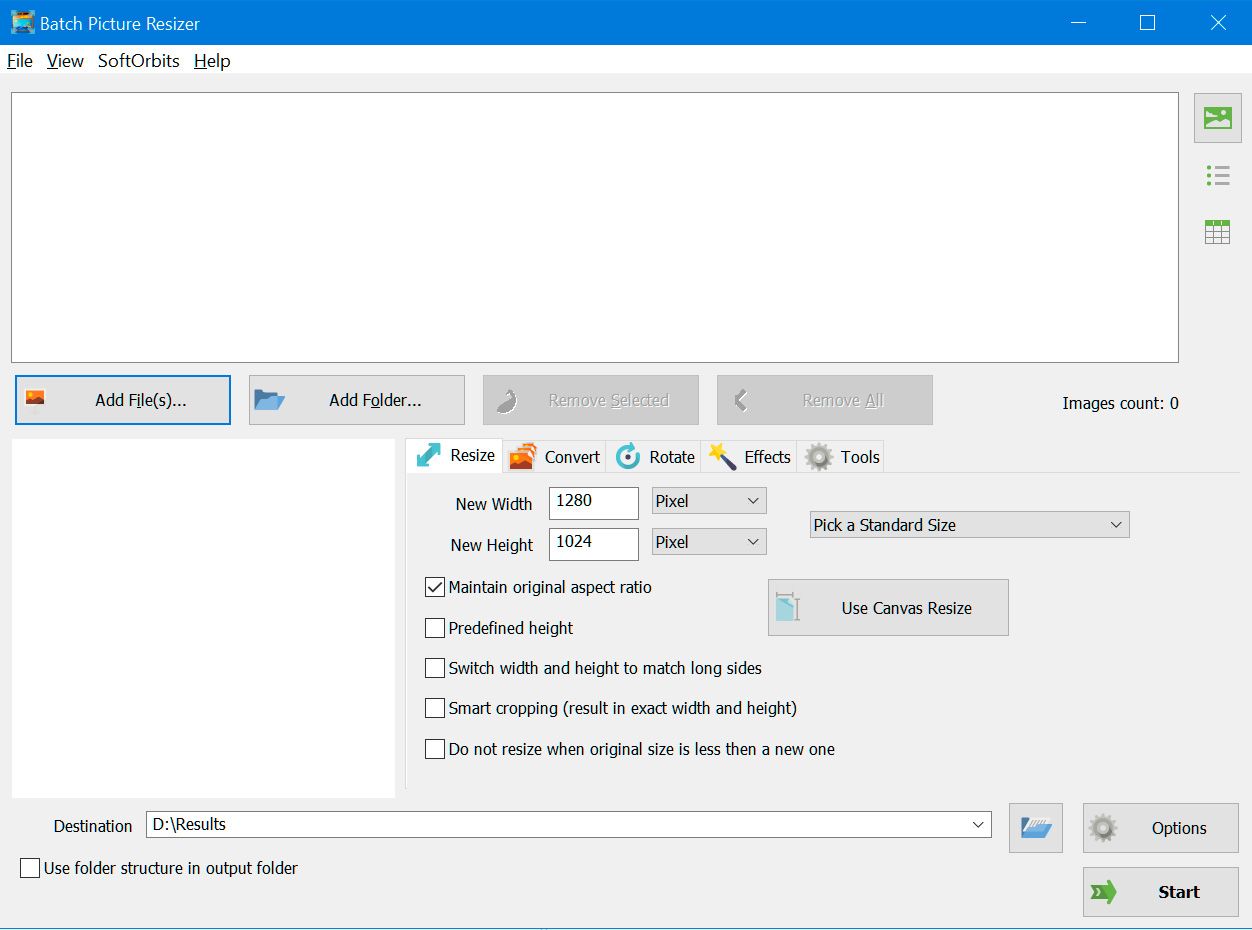 Image Resizer in CM is a versatile tool that can come in handy in different situations. Whether you are an amateur or a professional, resizing photos can be necessary for a variety of reasons. This user-friendly tool is easy to use, and it will help you to resize, convert, flip, mirror, or rotate photos.

How to use Image Resizer in CM
Add photos into the program
Use Add files or Add folder button to upload your images into the program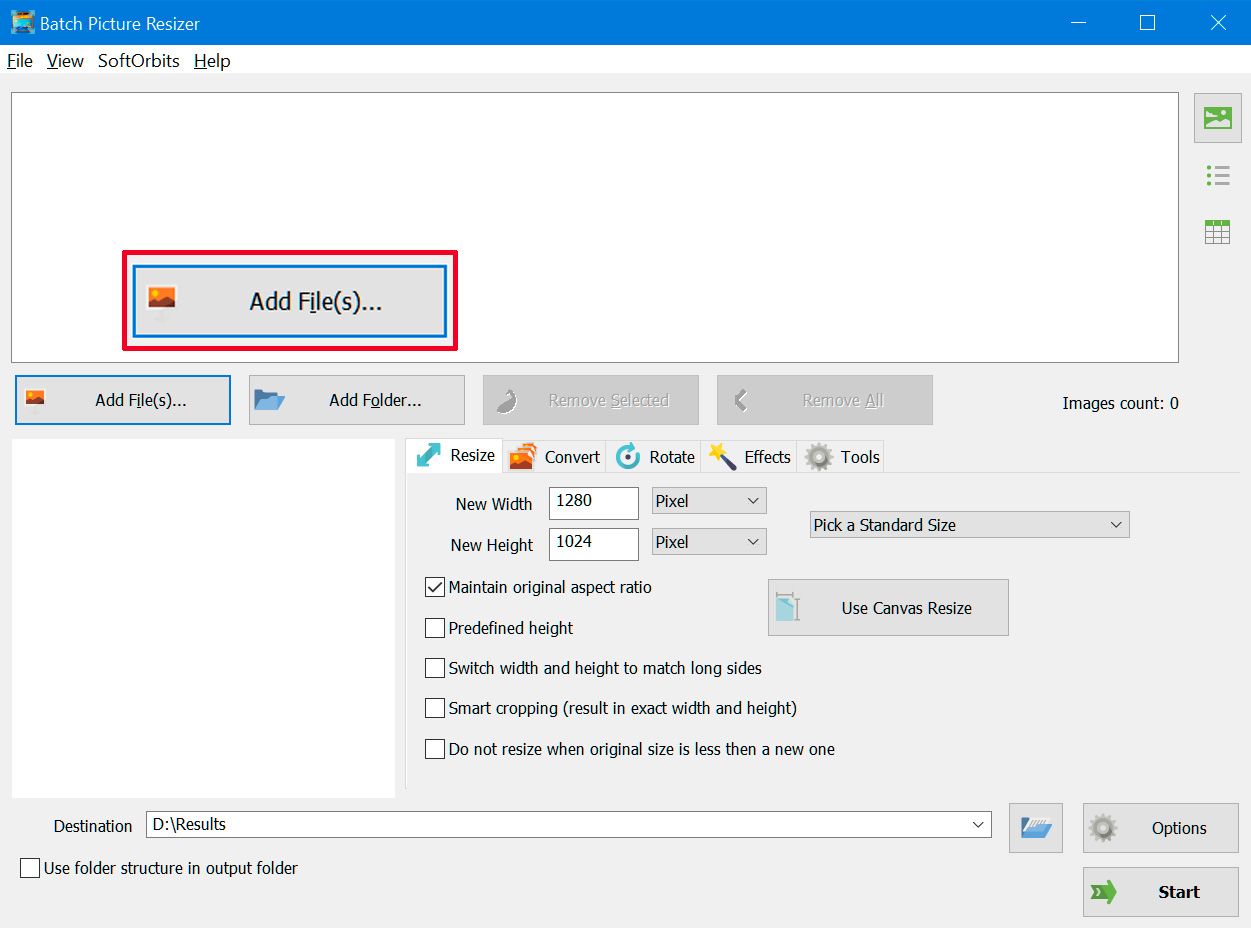 Specify photo size in pixels
Use the table below to chose required photo size centimeters or inches.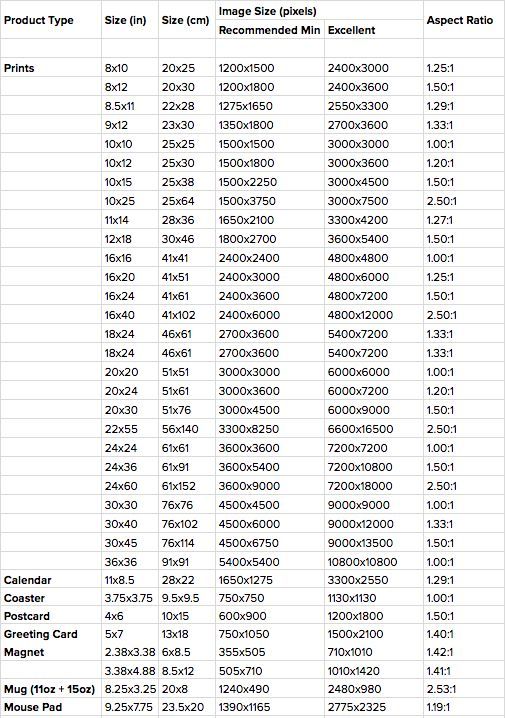 Click the Start button to resize you images in CM or Inches.

You should understand that you don't want to simply resize the image because that will keep the same number of pixels without changing the actual size. What you want the Image Resizer CM software to do is to resample it to reduce or increase the number of pixels. You need the right tool if you want to resample your photo without losing quality.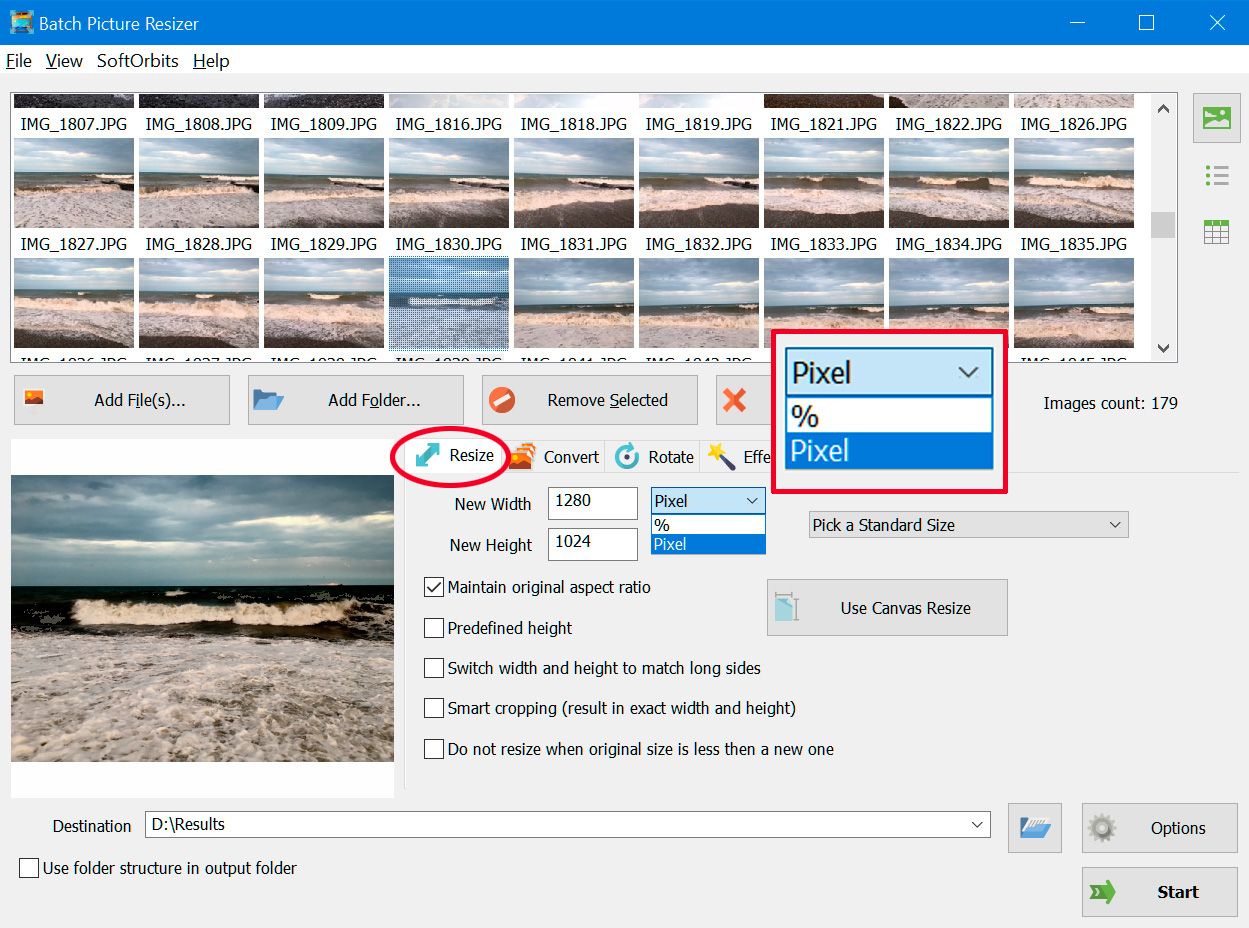 Why is it necessary to reduce photos in CM?
One of the main reasons to reduce photos in CM is to improve performance. When you upload a photo, CM has to resize it and store both the original and the resized versions. This can take up a lot of space and slow down the site. Reducing your photos before uploading them can help speed things up.
Another reason to reduce your photos is to save bandwidth. When someone visits your site, they have to download all of the images. This can take a lot of time, especially if you have large photos. Reducing the size of your photos can help make your site load faster.
Finally, reducing photos can help you keep your site organized. It can be difficult to find a photo if it is too large. By reducing the size of your photos, you can make it easier to find the one you are looking for.
Another concept worth mentioning is the difference between lossless and lossy formats. To save space, certain file formats, such as the popular JPG, average out some pixels. We recommend saving all files using the lossless TIFF format until you need to pack them up for email or uploading. And, if you resave a JPEG file repeatedly, you will be throwing away more and more image data each time, and as a result, the image will continue to degrade further and further. As you may know, JPEG is truly a one-time-use format.

Image resizing made easy
If you look online for instructions to resize images, you may be directed to a classic program like Paint that comes free with Windows. It has been a part of Windows since its first releases. You can upload the image file into Paint, then click the Resize button in the toolbar, but the downside is that you'd have to do that for each image individually, without any image processing algorithms that ensure the quality of the image is preserved or only deteriorates minimally.
Image resizing can be done in terms of target pixels or proportionally (%). Many standard sizes, such as screen size or email size, are predefined in Batch Picture Resizer for the easiness of use. It is also possible to specify the resulting width or height so that all images are adjusted equally. You can also use the program as a photo resizer in cm software and resize your photos to a particular size in centimeters.
If the images need to be cropped rather than resized, Batch Image Resizer in CM can process pictures intelligently to reduce the chance of cutting off somebody's face by automatic cropping.
It is possible to skip skip images that are smaller than the target dimensions to avoid enlarging them.

Resize Image in KB and CM
There are a number of reasons you might need to resize an image. Maybe you want to send a photo via email and the file is too large, or you want to post an image online but it's too small. Whatever the reason, there are a number of ways to resize an image. One option is to use Batch Picture Resizer. This software makes it easy to resize an image in kb and cm or inches. Simply select the image you want to resize, choose the desired size, and then click
resize
. The process is quick and easy, and it's a great way to make sure your images are the perfect size for whatever purpose you need them.
Photo Resizer in CM Software Free Download and Features
Batch Photo Photo Resizer in CM Software is a an app that allows you to resize your photos quickly and easily. With this app, you can resize multiple photos at once, or batch process a folder of photos. Photo Resizer in CM Software also allows you to crop, rotate, and add watermarks to your photos. In addition, the app provides a variety of photo editing tools, such as red-eye removal, color correction, and exposure adjustment. Photo Resizer in CM Software is available for free download from the Winodws Store.

Accelerate uploading images to Facebook
If you ever had to upload images to social media, especially several photos at once, you've probably wished you could save time by reducing the size of the image files before saving them online. Especially photos taken with a modern high-resolution camera in HD format, those can be very large and take a long time to upload.
Slow uploads can be the result of a slow internet connection. Typically your upload speed is around 10 times slower than your download speed. Both are regulated by your Internet Service Provider.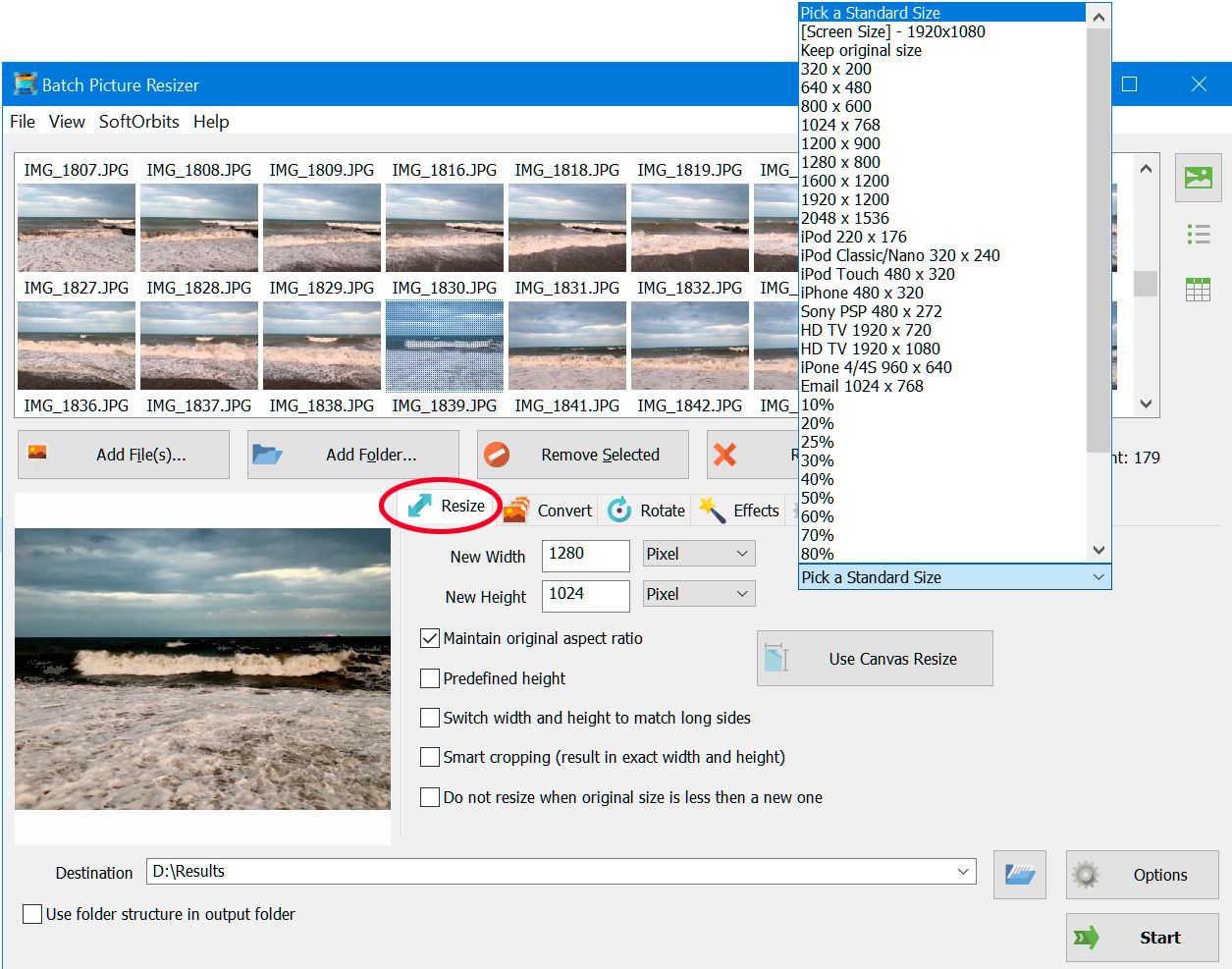 The secret to accelerating the upload of your photos to Facebook or Instagram is to convert your images to standard quality and avoid using the high-resolution files saved from your camera, which takes 10 times longer. You should use Image Resizer in CM instead.
Label images with a watermark
Sometimes you want to share photos but need to make sure they are not used without your permission. This can be achieved by adding a watermark to each image. The watermark can be your name, a trademarked logo, or a simple phrase like Sample Only.


With Batch Picture Resizer, you can add text at a fixed position relative to one of the corners or the center of the image. This watermark text can be added to all images in a group. You can even apply it to every photo file in the same folder.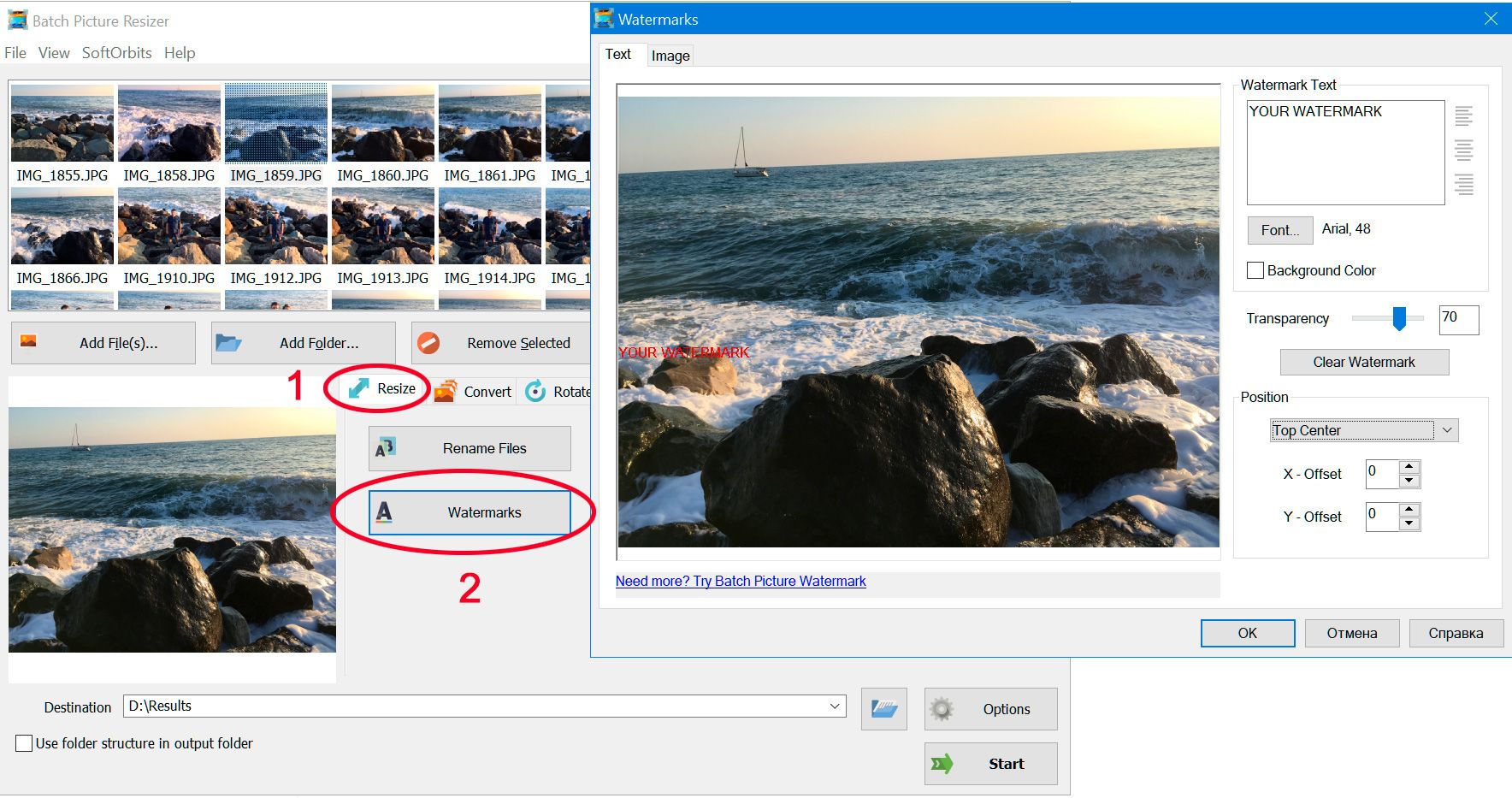 You can also use an image, such as a logo. The image can be added at a specified transparency level in the same location of each photo.
Image Resizer in CM: Supported Formats
It is not uncommon that images need to be converted to different formats from the one they were created in. The reason can be that some proprietary formats cannot be opened in software from other companies. Often uploading images can also impose limitations on the formats used. Also, keep in mind that some formats can become outdated in the future, so you will not be able to open and view images anymore. So you should save your backups in a popular and lossless format such as TIFF.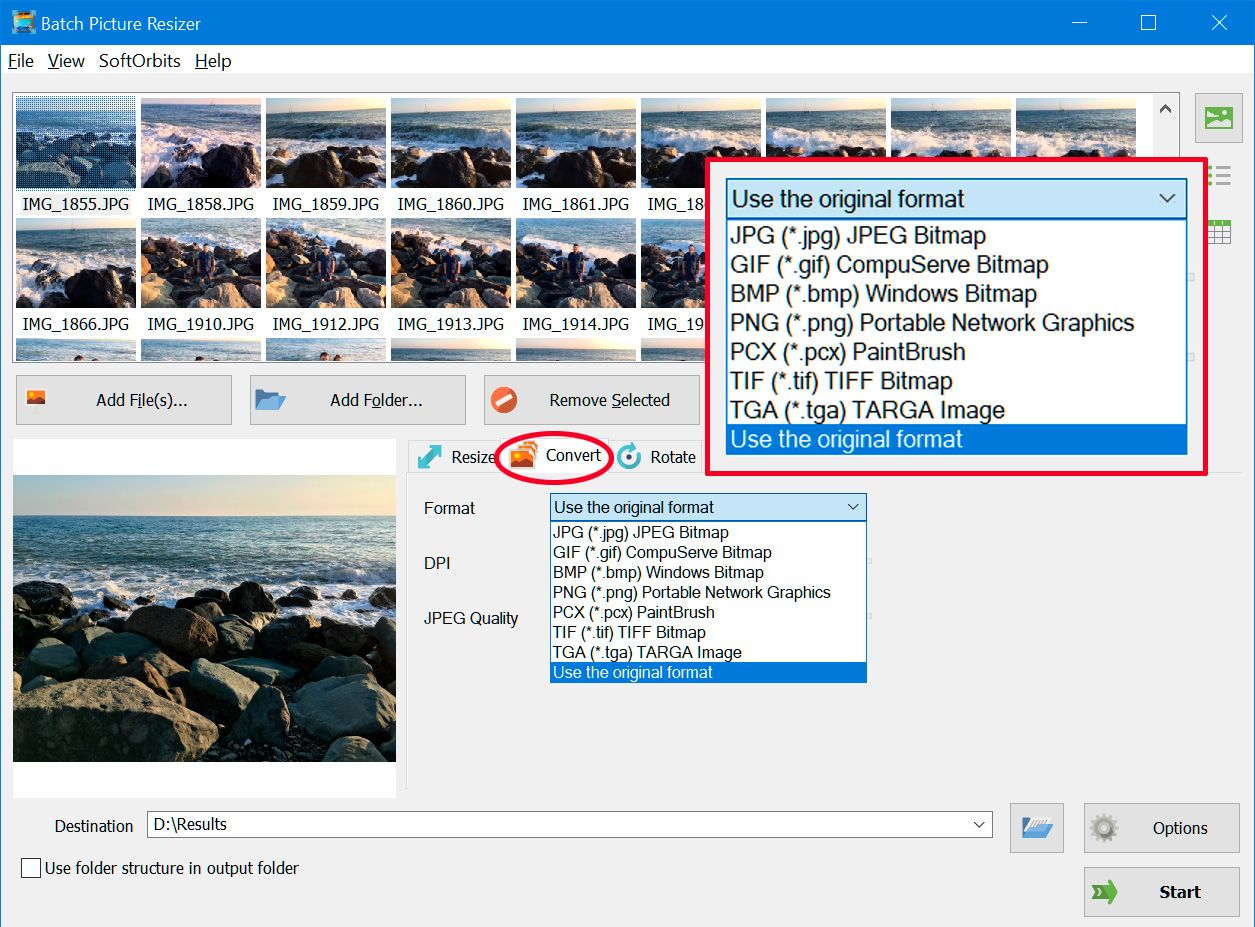 Advanced users may also want to adjust the compression for JPEG and some other formats. The Batch Picture Resizer software can convert between 8 different formats, adjusting the DPI resolution and the JPEG compression rate as required. RAW images (CRW, CR2, NEF, PEF, RAF, RAW, DNG, MNG, etc.) are also supported.
Correct photo rotation
Sometimes printers require photos to be rotated in a certain orientation, for example, when using photo paper. If images have been edited, it may also be necessary to rotate them before publishing online or printing.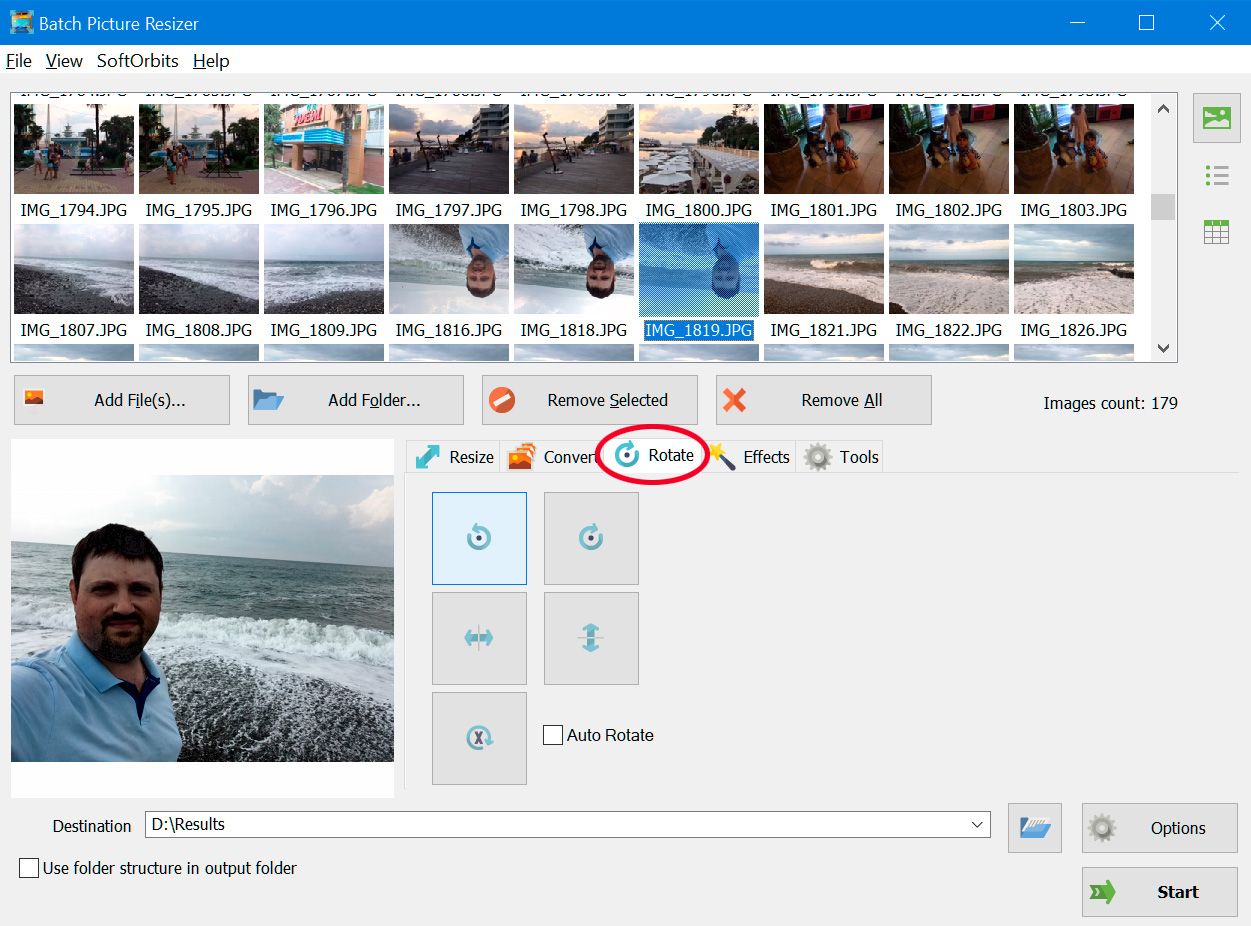 Another reason you may need to rotate a whole batch of photos is that the way a particular image should be oriented is flagged in the EXIF meta-data that was saved in the image file at the time the photo was taken.
So for example, if you take a photo in portrait mode, the app displaying or printing the photo would need to have the capability to read and utilize the EXIF information. If that is not the case, the originals need to be rotated.
Pic Resize in CM software can examine the EXIF information and only rotate the required images. By selecting the Auto Rotate option, the selected files will be processed but only those taken with a camera in portrait mode will be rotated.
Resizing images in cm and inches
Sometimes you might need to resize photos in a particular size and here an image resizer in cm software comes in handy, such as Batch Picture Resizer. You can specify the size in centimeters or inches and receive the exact photos you need.
Do more with photos
Apart from correcting orientation, there are situations where you may need to carry out more operations. Lossless image rotation, flipping and mirroring for JPEG files are all possible.
Convert to grayscale
When images are going to be printed without colors, they can be previewed as grayscale by saving new copies without color. This can be done in batch mode as well, without losing resolution or additional file information.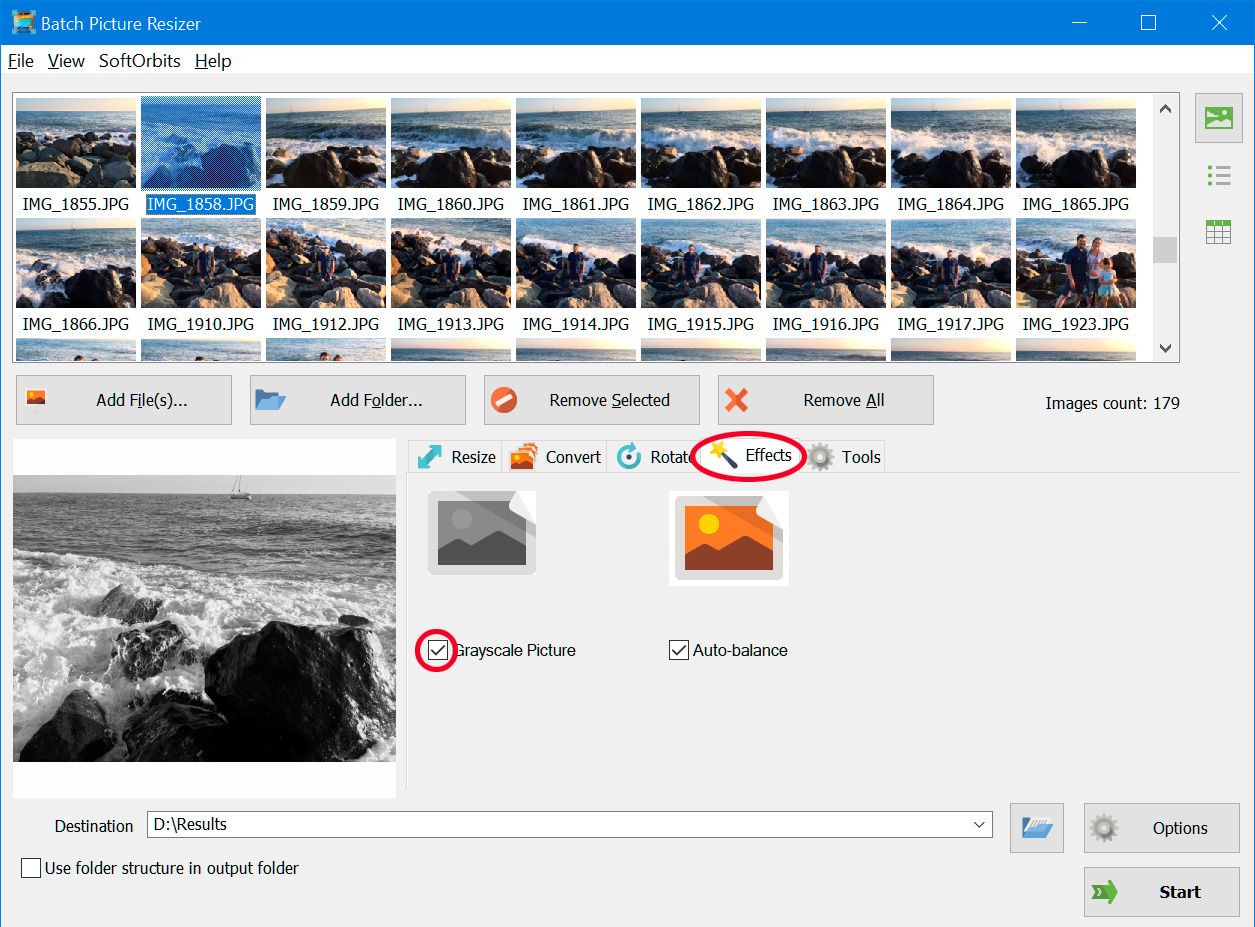 Balancing lighting
Some images may have high contrast and require high and low light areas to be better balanced. This function will automatically adjust the contrast and brightness of each image processed.
Managing numerous files
When you are editing many files, you will also need to rename them. This can be done in batch mode, adding a string of text before or after the file name, as well as changing the case. Another useful feature is the choice to replace existing files, or save new copies in a new folder and/or with a different name.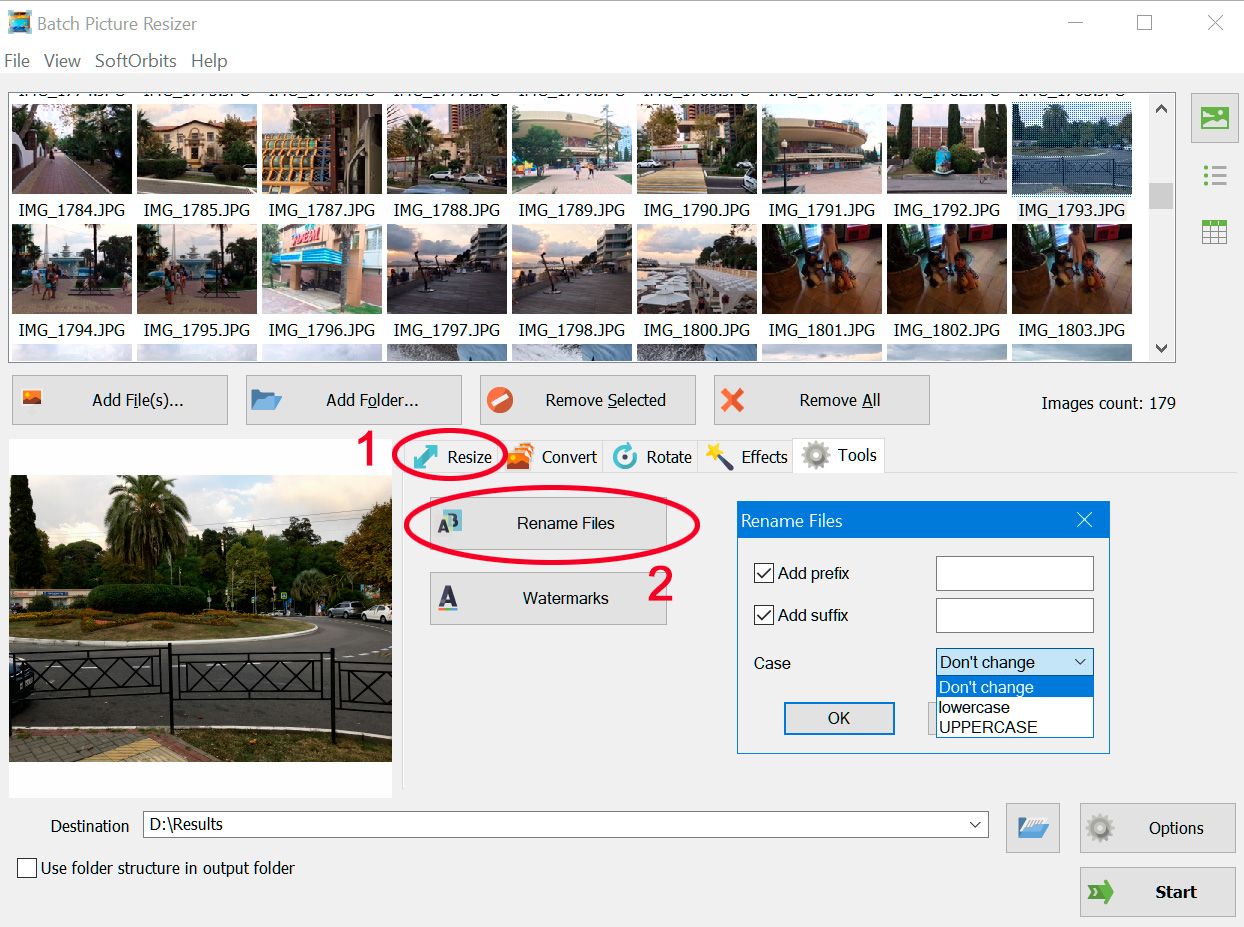 Output Format of Image Resizer CM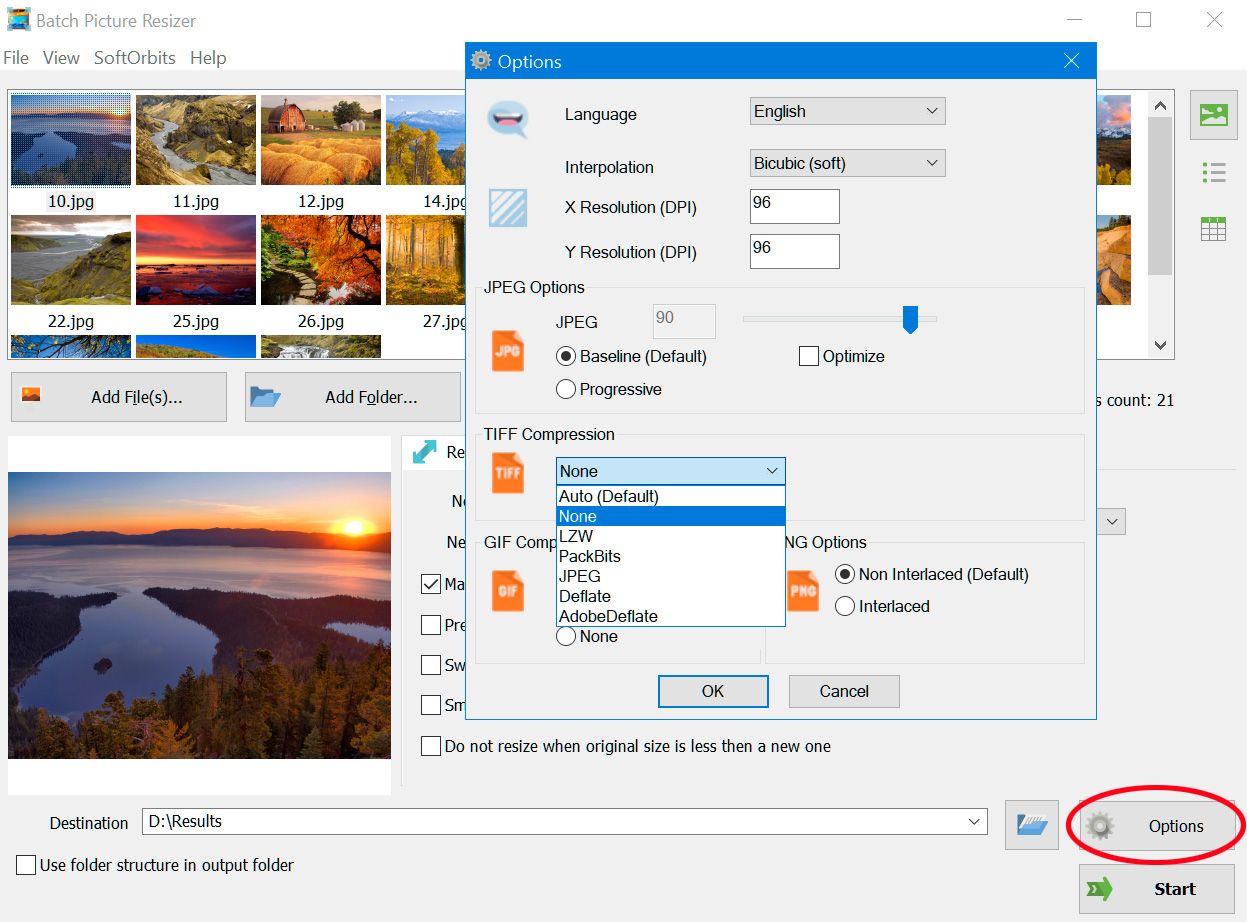 🙋Frequently Asked Questions
Batch Picture Resizer provides a comprehensive set of functions you may require when you work with images. Multiple images can be processed in just a few clicks. The software comes with all functions commonly required:
Resizing pictures in batch mode, as well as creating rotated, flipped and mirrored copies
Adding text, logotypes and image watermarks
Converting common and many raw formats to the most popular compressed formats
Changing canvas size
Batch image renaming
Automatic level adjustment and color optimization
Grayscale conversion
Compression rate and changing DPI for output files
Resizing pictures in cm, mm, in
Command-line execution


For users with basic or advanced requirements to resize and manipulate images in bulk, Batch Picture Resizer is an essential tool to have in hand.