It is always any person's priority to properly maintain and protect any information or data one might have. And in this day and age, almost all of any given person's information, whether it be personal records, photos, videos, songs and work-related documents are kept and stored in digital form. Information is preferably kept in digital form because of its many advantages, the most beneficial of which is its portability. Mountains of documents, shelves of videos and stacks of photographs that would otherwise take up a massive amount of space can now be kept in something that can fit in your jean pocket.

A Micro SD Card is one such device that is capable of doing this and is commonly used as it is present in most modern cell phones. However the Micro SD Card, like most the devices similar to it, can sometimes damage, fail or corrupt, putting any data you might have stored there in jeopardy. That is why it is important to have the proper micro sd card recovery software to help you recover any data in your card that could be lost permanently.
One such software is SoftOrbits' Flash Drive Recovery. The process of recovering data from flash drive storage devices can be complicated to the everyday person. But using Corrupted SD Card Recovery Software free download by SoftOrbits, with its instant pre-recovery preview pops up on your screen, simplifies the process making recovering files a very manageable task.

There are two main ways your Micro SD Card can fail, both of which can be more than handled by Flash Drive Recovery. One common cause of failure is the corruption of your micro sd card which is usually the result of an unwanted virus or the disruption of transferring data. Corrupted micro sd recovery is something any recovery program should have but Flash Drive Recovery excels in.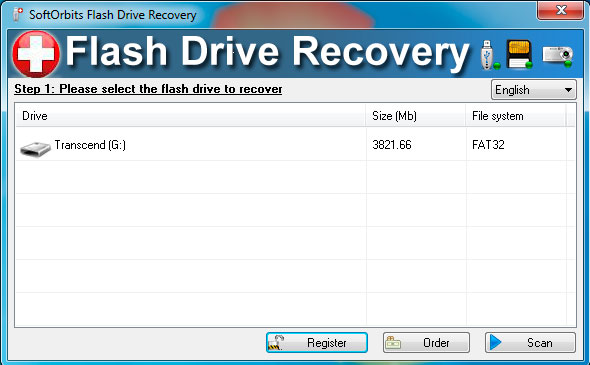 The second cause is actual physical damage to your micro sd card. Damaged micro sd card recovery is more difficult to execute but still possible for SoftOrbits Corrupted SD Card Recovery Software.

Corrupted SD Card Recovery Software
A memory stick makes your digital life more convenient. You can store photos, music, videos, and files in just one portable device. Saving data is much easier now because of this amazing device. However, constant use can cause either a temporary or permanent damage to your memory stick. This problem occurs when you accidentally drop your memory stick. A damaged memory stick is also a result of negligence. Once it happens, it is difficult to retrieve saved data in your device. Fortunately, there is a new way to solve this problem using a memory stick recovery software. The Flash Drive Memory is a new product that allows you to recover lost files in your memory stick.
🙋Frequently Asked Questions
It is always a frustrating experience when you find out that all your precious photos are irretrievably lost. Today, this is not a problem anymore. You can always use a broken memory stick data recovery tool. This tool allows you to recover all your important files instantly. No need to worry about accidentally erasing all you data. If you use this tool, your data will be safe and secure, even if your memory stick is already damaged.
Thanks to memory stick file recovery utility, you can now continue shooting more photos or record videos without worrying about data loss. It is also important to use your memory stick carefully to avoid any damage to your data. A memory stick is a convenient way to store vital data anytime and anywhere. In case you encounter issues regarding your memory stick, just use a memory stick recovery tool. This is by far the most effective solution. Losing your precious data is no longer a big concern these days.